When you're moving into a storage unit, the amount of stuff you need to transport can be overwhelming. You want to know the best ways to pack so that you can save time and be as efficient as possible while also avoiding damaging your items.
Here are 16 packing tips to get your belongings ready for storage:
TIP #1
Make packing easier by planning ahead! Gather up plenty of sturdy cartons or boxes along with packing paper, bubble wrap, sealing tape, markers and plenty of furniture covers. It's better to have too many supplies than to be stuck with too little. Plus, you can save the rest of the supplies for next time or separate your items more for a lighter load. Avoid using plastic bags because they are less waterproof than cardboard boxes or plastic containers and will trap in moisture causing mildew. If you want to save money of packing supplies, use what you already have and wrap things in sheets, towels or blankets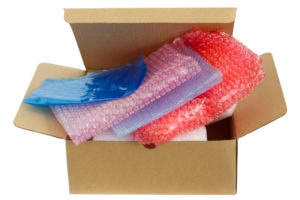 TIP #2
Seal boxes tightly with packing tape to prevent dust from entering. Depending on how long you're storing your items into these boxes, dust can easily creep into the cracks. It is also good to have them taped securely for when you are traveling with them to prevent them toppling over and having your things fall out.
TIP #3
Wrap furniture legs with protective bubble wrap, furniture covers or pads in order to prevent scratches. Moving and carrying around furniture is tough. There comes a point where you might just drag it across the floors to make it easier on yourself. If the legs aren't covered, the floors will get scratched up and so will your furniture.
TIP #4
Label boxes on all sides for easy identification when unpacking. Keep a list and mark clearly "FRAGILE" and "THIS SIDE UP" on the boxes as well to prevent damage while moving. After you finish packing, you'll notice that all the boxes look the same and you won't remember where you put everything. Labeling what items are in which boxes as you go will save you from frustration later. You'll easily be able to go into your storage unit and find what you're looking for even months after you packed. If you have an idea of what you might need from time to time before fully unpacking, store it in the front of your storage unit for easier access.
TIP #5
Use the space inside of dresser drawers and larger appliances, such as stoves, refrigerators, washers and dryers to store items. Store light items here such as towels, linens, and small fragile items. Using items that aren't heavy won't make the appliances any harder to move and will save you tons of space. You just have to make sure that you don't forget these things are inside when you unpack your storage unit. Put a sign on the appliance to remind yourself.
TIP #6
Pack a much as you can within one box (without making it too heavy, of course). Filling boxes fully helps you to stack them without caving in and becoming damaged or smashed. Stacking boxes will save you space and you'll use fewer boxes by putting more stuff into each one. If a box is already getting heavy but there is more space, pack it with lighter items to fill it. You can also use newspaper or packing paper to fill the extra space to prevent the items from moving around.
TIP #7
Pack heavy items such as books and tools in small boxes. This will make them much easier to carry. Trying to find a comfortable way to hold a large, heavy box isn't easy. You can end up losing your grip and dropping it while moving in. If your heavier things are securely compacted into a smaller box they'll be more manageable.
TIP #8
Pack books flat to protect their spines. If books are packed vertically and stacked on top of each other they can become damaged from the weight. Stacking books flat with be safer for your books that are different sizes and weights. If there is extra space in the box and it's too heavy to add more books, fill the rest of it with newspaper to prevent the books from moving around.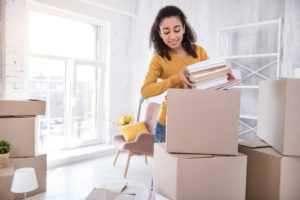 TIP #9
Clean and dry appliances before packing and moving them. If your appliances are dirty or wet, they can form mold or grow other kinds of bacteria while in storage. After defrosting your refrigerators and freezers, make sure to dry them off. Store them with the door slightly open in case it's not as completely dry as you thought. This will increase airflow and prevent bad odors or molding.
TIP #10
Use a lot of paper to pack dishes and glassware. This prevents them from bumping into each other and ending up cracked, scratched or broken. A good idea is to use old newspapers so that you're not wasting paper. Use multiple layers of paper around heavier and more fragile items.
TIP #11
Hang clothes and draperies in wardrobe boxes to prevent permanent creases. For your average vacation, folding your clothes is fine. However, when you're storing your wardrobe for a longer period of time, you can end up wrinkling and creasing all of your clothes. Hanging them up will prevent this frustration and save you time by not having to iron everything later. You can also store some shoes on the bottom of the wardrobe box to save space.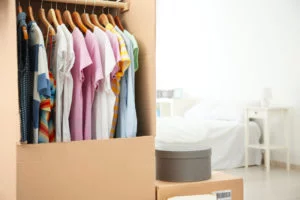 TIP #12
Disassemble lamps from lampshades and pack them in separate boxes. This will save you a ton of space because of the awkward shape of a lamp. You can store each part of it in different boxes with similarly shaped items.
TIP #13
Pad mirrors and paintings with packing paper. These are undoubtedly some of your most fragile items and can easily be damaged while moving. Mirrors can crack from one small incident and so can paintings if they are encased in glass. If they are canvas paintings they could get torn. Keeping the paper on these while in storage will prevent dust from collecting on them as well.
TIP #14
Secure movable parts and tape doors and drawers closed. While moving these items, doors can swing open and drawers can fall out. This could cause damage to the piece and also hurt you. You don't want your fingers to get pinched or have a heavy drawer to land on your foot. Use strong tape or straps to make sure everything is held together tightly.
TIP #15
Take apart furniture such as tables, chairs and bed frames that can be broken down to save space. Make sure to wrap them in cloth or sheets to prevent scratching. If there are small pieces of hardware to put the furniture back together, put them in a sealable plastic bag and attach it to the parts to prevent losing them. For furniture that is not detachable, store items below it and stacked on top of it to save space. Don't pick items to stack onto it that are too heavy and will end up bending or damaging the table or chair.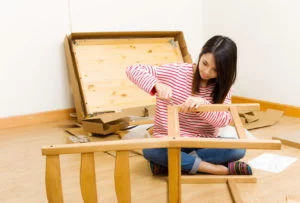 TIP #16
Wipe down tools and drain the fuel out of your equipment. This can include lawnmowers, leaf blowers and trimmers. Making sure that your tools are clean will prevent rust from forming. Leaving fuel in your equipment can cause leaks and bad odors potentially damaging your other items inside the storage unit.
At STORExpress, we sell a full range of packing supplies in all of our offices for your convenience. We also offer a free truck and gas for move in once you rent a storage unit. We supply dollies, carts and straps upon request as well for you to safely secure and move your items. These tips and tricks on packing along with our convenient services, will make your moving and storing process easy. Stop in to one of our stores or visit our website today to learn more!