During the summertime, yard sales are popping up around every neighborhood. Warm weather calls for a fresh clean-out of the home and someone else's trash could be your treasure. It can either be a hit or a miss based on your personal preferences and what you need. The coolest part about them is that they're all unique. It's kind of like a box of chocolates, you never know what you're going to get.
Yard sales can be fun to leisurely walk around and look at everything, but there's a right and a wrong way to shop. Whether you're someone who is a routine yard sale goer or someone who just stops by when they have extra time, these tips will help you make the most out of your next visit.
Here are ways to properly shop at a yard sale:
Have cash handy.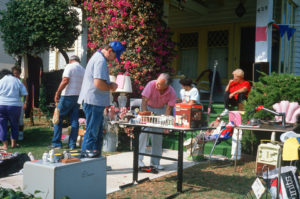 Unless the house owner is a millennial who strictly uses Venmo, chances are you'll need to pay for yard sale items in cash. These days, most people find themselves only using their credit or debit card and don't even bother to carry around money anymore. Before you pull up to your next garage sale and realize your pockets are empty, take out some cash and store it in your wallet or car. You could drive by a yard sale unexpectedly so you'll want to be prepared. Smaller bills make things easier, so the owner doesn't have to find a lot of change for you. If you end up negotiating prices, it won't look good to be holding large bills either. Bring more than you intend on spending because it's better to have too much rather than too little. You don't want something great to catch your eye and be forced to walk away from it.
Time it out.
The earlier you go, the better things you'll have to choose from. The big-ticket items will go by fast, so going in the morning or early afternoon is key. As the day goes on everything will be picked over from all the other visitors. However, the later it gets the more negotiable the owners are. If their sale is about to end, they will sell to you for a bigger bargain since they know there's little chance of anyone else taking it off their hands.
Drive a larger vehicle.
If you're planning on hitting up a few yard sales for the day, make sure to drive in something bigger like an SUV, truck or van (if you have one). Even if you're not looking for large furniture or a TV, you never know what you could end up finding. You won't want to deal with the hassle of coming back with more space and discovering that it's already sold.
Pack some supplies.
Store some boxes, bubble wrap, straps and whatever else you might need to keep your new purchases safe during the ride home. A lot of garage sale items are fragile such as mugs, picture frames and other little trinkets. Furniture and large electronics will need to be securely strapped down as well.
Keep the area in mind.
If you're a serious yard sale shopper, you'll be traveling outside of your own neighborhood to look for hidden treasures. The kind of area the sale is in will help you determine what items they'll have. The nicer the neighborhood, the more expensive it'll be. If it's in a suburban area with plenty of families, they'll have stuff for babies and kids. In an older neighborhood, they'll have antiques and collectibles.
Realize what's useful and what's not.
The whole point of a yard sale is for someone to get rid of all the stuff they don't use anymore. If it's just as useless to you as it is to them, don't bother buying it. If you see a cool lamp and don't know where you'd put it in your house, think about if you're willing to get rid of one you already have and replace it. Buying random things just because they're interesting and cheap, will have your own house cluttered in no time.
Don't shop seasonally.
We all know that buying things out of season is when they're the cheapest. Don't be afraid to buy a winter coat or Christmas decorations just because it's only June. As long as you know they'll be useful for you and you have the space for them, it's a smart purchase.
Be able to decide quickly.
If you're someone that contemplates buying something at the store for a long time and end up thinking you'll just come back to it, a yard sale isn't for you. Yard sales usually only last a day and everything there is one of a kind. Since there aren't any duplicates, you'll need to decide fast before someone else takes it. If you're unsure about it, a good idea is to pick up whatever you're interested in and walk around with it while you're shopping. That way if you decide against it you can just put it back down for someone else to claim.
Some things are better unused.
Certain items being resold might be unsafe or just plain gross to buy secondhanded. Baby items have a history of being recalled and you don't know what's safe and what's not. Shoes, depending on how worn they are, could be broken into and already formed to someone else's foot. Clothes are fine, but things like underwear or bikinis just aren't sanitary. Makeup shouldn't be bought if the package is already opened because it can hold all kinds of bacteria from the person before you. On items like these, it's better to spend some extra money to get it new and unused.
Does it have resale value?
If you see something you don't need for yourself, it could be sold to someone else for a profit. Items that are barely worn or still in the packaging are always a good choice. Look online to see what similar items are selling for on sites like Craigslist or eBay and base it off of that. If you buy something that doesn't end up reselling, you could also give it as a gift.
Be aware of your surroundings.
If you're planning on going shopping with someone, make sure you watch what is said. You don't want to be talking to each other about how all of the stuff is junk and have the owner or family member here. Pointing out things to make fun of is just plain rude and will also hurt you in the end. You could stumble upon a great item and have them deny selling it to you.
Know how to negotiate.
Yard sale items are already priced fairly low, but the owners need to declutter. They want to get rid of as much as possible so they'll be willing to negotiate. You want to come off as friendly and conversational. If you strike up a conversation with them and ask them questions about their items, they'll be more inclined to sell it to you. They want to know that they're precious belongings are going to a good home. Buying in bulk and rounding all of the items to a reasonable price works well for the both of you. They'll be getting rid of a lot of stuff and you'll be scoring a good deal. If you want a popular item that they know will easily be sold to someone else, don't try to bargain too hard on it. If it's earlier in the day, they'll be less likely to go for a low price since there's plenty of time for someone else to give them a better offer. You don't want to bid too low either. If something is $20, don't offer them $5.
Looking around yard sales can be fun, but you want to shop with a purpose. Using these tips and tricks will help you become an expert at your next visit. If you end up buying more than you expected and don't feel like having a yard sale of your own, STORExpress has storage units and lockers that can be used for all your extra items! Visit www.storexpress.com today to learn more!