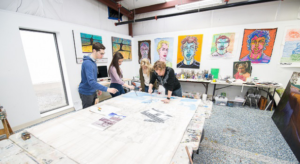 Wander around the halls of 448 Studios in Etna, and you will see many paintings by Tom Mosser, the former Pittsburgh Pirate Parrot who parlayed his love of sports and art into a very creative and prolific career.
His newest project entitled "Museum Series," features animals and people in museums, gazing at paintings. Mosser's newest painting in this series will be of particular interest to Pittsburgh residents who are rooting for a Penguins win. The painting is called "Penguins at the Museum," and shows five penguins looking up at a painting of the Stanley Cup.
You can read more about Tom Mosser and his work in this article that ran recently in the Pittsburgh Post-Gazette.