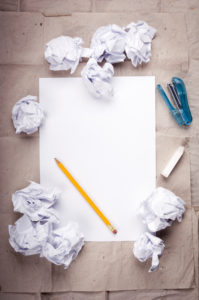 It happens to all types of writers eventually: the dreaded writer's block. While it can be frustrating to be in a creative slump (especially when the rest of your band is churning out amazing work) there are ways to pull yourself out of it.
Forget about perfection. Always striving for perfection can cause writer's block. Instead, focus on the creative process and let the words come naturally. Once you get the lyrics down on paper or in your computer, take a breather. Revisit the lyrics in a day or two and tweak if needed.
Rip – off another song. Have you ever watched a movie, hated the ending, and thought to yourself "If I would've written that movie, I would've done _______." You can do the same thing with a song. Pick a song that you think could be awesome if only __________ and rewrite it. Just remember not to record or release the song. Getting nailed for plagiarism is no fun!
Finish a shelved song. Like most writers, you probably have notebooks filled with unfinished songs. Pull those notebooks out and go through them. You may find inspiration in something written years ago.
Stop writing. Sometimes your brain just needs a break. Occupying yourself with other activities like meditating, taking a walk or lying in bed and letting your mind wander can spark a creative firestorm! Be sure to carry a small notebook or voice recorder so that you can jot down your ideas before they flit away!
Explore the unexplored. Are you a black metal songwriter who writes songs only on a guitar? Try switching it up! Write a cold wave song on a keyboard or an indie pop tune on a bass. Doing this will help you avoid "muscle memory," and you'll find that the choices you make will be different from the automatic choices you tend to make on your default instrument.
Writing about a writer's block is better than not writing at all." – Charles Bukowski
Need somewhere to write and practice music? Check out the band rehearsal rooms at STORExpress!