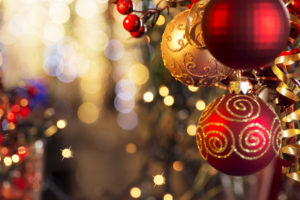 We are now entering the midst of the holiday season and with all the happiness this time of year brings, there is no doubt that stress and chaos are occasional guests at holiday dinner tables as well. You should enjoy the holidays with your family and not spend your time worrying about a bunch of other things. To make sure your holiday is filled with more cheer and less fear, we've compiled eight ways that utilizing self-storage can clear up your house (and your head) to make sure you have more peaceful, silent nights!
1) Guest Furniture
So, the family is coming to visit for the weekend, but where are you going to sleep now that you gave your bed up to Aunt Millie? Don't settle for sleeping on a dusty cot you've had hiding away in your garage all year. Storing guest supplies like air mattresses, cots, pillows, and blankets in a storage unit is a great way to spare your home from items that you only use on special occasions. This way, the makeshift bed in the living room doesn't become a nuisance after your guests leave!
2) Holiday Gifts
Holiday shopping has turned into a month of pandemonium. Black Friday can be a nightmare, but you have to do it to get the good deals. You managed to fight off an angry mob for the last 60" TV at Sears but where are you going to put it until the big day? Why not use a self-storage unit as a gift hub where you can place all your gifts from your list, large and small, away from nosey kids and family? If you're more of an online shopper and take advantage of Cyber Monday, you can even have packages delivered directly to your storage unit. Not only is this easier, but it will prevent anyone from accidentally seeing their gift on your doorstep and ruining the surprise. There could also be some Grinches out there that as sad as it is, may steal your packages if you're not home. Using this method will make your online deliveries easier and safer.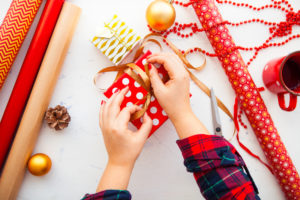 3) Wrapping Station
Wrap gifts in peace while in your storage unit. You'll have plenty of room to lay everything out and organize what gifts go to who. You also won't have to worry about your spouse or kids distracting you or seeing their gifts. Take the role of Santa and turn your unit into your workshop.
4) Seasonal Tools & Equipment
Cold weather is on its way. Chances are you aren't going to use your patio furniture, lawnmower or golf clubs for the next few months so why not exchange them with your snow blowers and snow shovels once a year? Keep the garage from turning into a Pittsburgh episode of Hoarders by clearing out the items you aren't going to be using for the next few months. Keep switching out these seasonal items and replacing them with what you need throughout the year.
5) Seasonal Clothes & Accessories
Extend your closet space by labeling items by season and storing them away until they're ready to be used. Your bulky winter coats don't have to fill up your whole closet anymore. Just like with your tools and equipment, you can switch out your clothes and accessories based on what you use. In the winter, store your tank tops, shorts and sandals into your unit leaving more room for your jackets and boots. When it's time to gather up your Steelers windbreaker, gloves, hat, and scarf for the big January night game, you'll be prepared!
6) Holiday Decorations
Whether you place one candle in the window or blow your neighborhood's fuse with the amount of lights you use, holiday decorations are definitely a use-one-time-of-year item. Gone are the days of just one line of lights strung on your house's edges. They have been replaced by large inflatable props, waving holiday characters, and giant illuminated snowmen. You need somewhere to put the indoor decorations as well such as artificial Christmas trees, ornaments, holly, bows, stockings, placemats and more. So where should it all go? The best way to make sure your house is looking great year after year is to keep your decorations organized and in a space large enough where they won't get damaged. A storage unit is a perfect place for you to store all of these items instead of you stuffing your garage, basement, attic and closets.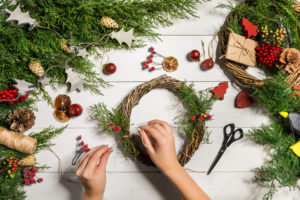 7) DIY Decorations
If you want to be creative while also saving money, making your own holiday decorations is a good way to do so. Using your unit as a workspace will give you plenty of room along with peace and quiet to work on your designs. You won't have to worry about accidentally making a mess on your carpet or furniture at home. Keeping all of your crafting materials in the same place will help you stay organized. Your work will be able to dry without anyone messing it up. Find a storage unit or workspace that has outlets for your electrical tools such as glue guns, cutters and sewing machines.
8) Prepare for Next Year
After the holiday season is over, decorations and gift supplies are discounted. Those $5 rolls of wrapping paper may only be 99 cents now. Save money and future frustration by stocking up for next year and storing these items in your storage unit. Then when the season comes around again, you'll already have everything you need. You won't have to worry about visiting those busy stores last minute when you have a million of other things to do. No more rushing around wrapping gifts or getting ready for dinner parties because you'll have a lot more time on your hands. Items go on sale in the off season for a reason. People don't want to buy things so far in advance when they don't have room for it. The same goes with clothes. Buy a winter jacket in the summer when it's on clearance, then store it in your unit for later. Future you will be grateful that you bought things cheap and in advance.
Seasonal storage is a great way to stay organized during the most hectic time of the year. A seasonal storage unit is definitely worth considering when you have items that you need but use infrequently; they are most likely going to be taking up useful space in an attic, closet, or garage for more than half the year. STORExpress offers month-to-month contracts that allow for you to store for short or long-term. If you're looking to make some DIY decorations we also have work spaces with electrical outlets and other great amenities. You can have your packages delivered directly to your storage unit as well. Visit our website to learn more about renting a storage unit and reserve yours today!