There are many elements to moving that include cleaning, packing, buying supplies, hiring movers (professional or help from friends), renting a moving truck…the list goes on and on! Besides the long to-do list, moving should be an exciting new start for you instead of a major costly experience. Here is a list of things to do that'll help you move on a budget!
1) Research!
Look at your finances and create a budget to see what moving options work for you. There are several ways to do this. Moving websites will have comparison tools and calculators that help you gauge the costs of various moving options such as hiring a full-service moving company or using your brothers' friends.
2) Ask For Help.
Don't be afraid to ask some of your friends and family to help you move. If they're reluctant, give them an incentive or offer a favor in return. People who are close to you will want to help you regardless and might not even care about getting anything in return, but it's always nice to offer! Once you know how many people are willing to assist with your move, you can figure out whether you need to hire more movers or not. If you do have voluntary help, make sure to pack boxes so that they aren't too heavy. Moving boxes that are packed too full can cause unnecessary frustration. You don't want to wear out your friends or family members too much! See if they'll also let you use their trucks or vans to transport your belongings. This will save you a ton of money in both movers and truck rentals (unless you use a free truck rental from your storage facility)!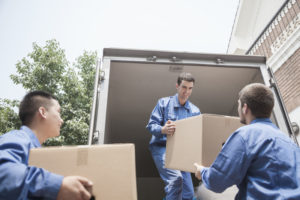 3) Compare Prices & Reviews
It's sad to say but there is a lot of vulnerability to the moving process. Scams abound. From overpriced and unsatisfactory movers to truck rental hidden fees. No matter how you plan on moving, be wary of these. Make sure that when you compare prices from different moving companies that you add in the hidden fees. You may find that some companies offer discounts and coupons online. If you are traveling a far distance, look at what it would cost to ship your items instead of moving them. The best way to see what's best for you is to read online reviews. Sure there will be a bad review or two, but you can learn a lot from a company by how they handled the situation. You want a company that makes moving as easy for you as possible with a helpful staff and convenient services. They also need to be reliable because you want your items to arrive in your new home safely and securely! By doing your research, you'll be more confident about choosing the right companies for you.
4) Declutter Before Packing.
The less stuff you have, the easier and cheaper it is to move. Start by going through each room and simply looking for what you don't use. You can move these to another area and over a week see if you use it more than you think. Odds are you'll actually find more things to add to the pile. Then go through each room carefully. Look through drawers, cupboards, and shelves. Sort through your closets. Collect any broken or unused items. You can sell these to help take some of the sting out of moving. You can also have a yard sale but if you have some time, consider listing them on eBay, Craigslist, or any of the other sell-apps that have come out over the past year. Look up similar items and see what they are going for. If you're using an app, check for the fees involved in selling it through them. If you have things you want to keep but know you don't use them often, store them in a storage unit! Items that don't sell can either be donated or placed into storage.
5) FREE IS GOOD!
Grocery and liquor stores are great places for finding boxes and 'creative' packing supplies. Collect packing materials from your online orders or shoe boxes. That being said, a free box can cost you plenty. These boxes aren't meant for moving anything but what they first carried. If you have a heavy, fragile heirloom vase in a cracker box that is on its last legs, that 'free' box might just cost you that family heirloom. Plan how to best use the supplies you collect. Packing supplies are incredibly useful; the right tools for the job always are. Make sure your mother-in-law's dishes don't get damaged and purchase a sturdy box when needed.
6) Use Other Materials You Have.
Aside from boxes, there are plenty of other packing materials you have throughout your home that you might not even realize. Suitcases, plastic or paper bags, tote bags, garbage bags, laundry baskets, hampers, and drawers are all things you could put some of your things in. You can use newspaper instead of packing paper and cover things with towels, sheets or other clothing pieces to wrap around your fragile items to protect them from being damaged.
7) Stay Organized.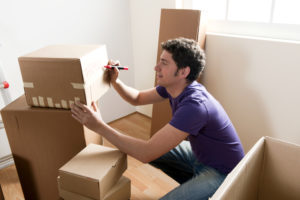 Try to make some sense out of your packing process! Put similar items in the same boxes so it's easier to unpack later. Label every box with what's inside and what room they go in. Putting in the extra effort at the beginning will save you plenty of time and frustration for the future. This will also help you keep track of your belongings. You don't want to end up losing something and have to replace it by buying another. Check out our blog
16 Packing Tips
to learn more about the best ways to pack for your move.
8) Reimbursements and Tax Deductions.
Some employers reimburse for job-related transitions. This is the third most common reason people moved in recent years. Your employer may not bring this up so check with human resources. Even if you don't get a reimbursement, some of the costs may be tax-deductible. Make sure to keep all of your payments and receipts handy in case you need to show your employer later.
9) Use Self-Storage Between Moves.
If you are moving and find yourself in a gap situation, don't freak out and change all your plans. Sometimes, the place you're moving to isn't ready when you have to be out of your previous place. This gap could be as little as two weeks or as long as two months…or more. Once you know how long your gap will be, decide where you and your loved ones can stay and the minimum necessities you will need. Next, move your items into a storage unit. What you want to avoid doing is literally moving twice. Sometimes people panic and they rent another place for them and everything while the situation at the new place is being fixed. This makes a lot of sense if you're not sure how long your gap will be, but if it's only a month or two…you could be paying for 2 places for far too long!
10) Pick the Right Time.
Depending on your reason for moving, you may be on a strict deadline and not able to decide when you can move. However, if you can delay time, try to move in the fall and winter months. The majority of people move in the summer between May and September so it is busy, expensive, and might be uncomfortably hot. If your schedule allows for it, try to make your move between October and April for a smoother and enjoyable transition.
STORExpress offers excellent customer service and great services and amenities. We include a free truck rental and gas once you rent a storage unit and have carts, dollies and straps to make the move easier. Each of our store locations has plenty of packing materials in the main lobbies for you to easily access and purchase. We are experts at helping our customers who are dealing with a gap-move and our monthly contracts allow for you to store your items for long or short-term! You may even find yourself wanting to keep the storage unit after your move to store all of your extra items so your new house isn't so cluttered. Visit our website today to learn more about how we can help with your move!