Offering atypical space for entrepreneurs, musicians, artists and other creative tenants is an innovative way to build your self-storage revenue.
STORExpress
shows how this unique operating model has led to tremendous growth.
The self-storage industry has changed drastically since its beginnings, and facilities are offering new ways to serve their communities and generate income—STORExpress Self Storage included. With locations in Pittsburgh and Warren, Ohio, the company has found many ways to accommodate the desires of its local customers and boost its add-on revenue by offering nontraditional storage spaces.
STORExpress opened its first facility in 1997 in South Pittsburgh, and now operates nine additional locations. Its model is unique, with a focus on turning the old into something useful for future generations. Nearly every facility is a long-standing building filled with historic treasures—some that are still being uncovered.
From a Pittsburgh steel mill to a Westinghouse Electric factory that's six city blocks long, the company's structures have great potential. Their growth has been based almost entirely on the passion of owner Steve Mitnick, who infuses rich, local history into the buildings while creating atypical spaces for artists, musicians and other entrepreneurs.
Seizing Opportunity
In 2003, Mitnick decided to redesign a floor in his first self-storage building, the former Duquesne Brewery in South Side Pittsburgh, into 12 music-rehearsal spaces. It didn't take long to realize a dozen rooms wouldn't do the job. The site was expanded with 35 more rooms in 2005 and again in 2011. Still, the waitlist grew.
Mitnick then decided to purchase an office building in Etna, Pa., and convert it into band spaces. During the renovation, he realized there was also a large growing community that was demanding a place to create visual art, too. With a few tweaks to the original design, such as skylights for natural lighting, 448 Studios was created. The rooms filled so quickly and the demand was so large that the company bought an old elementary school and is currently designing the space for its growing artistic community.
In 2016, STORExpress purchased an old enamel factory in the McKees Rocks neighborhood of Pittsburgh and once again heard the call for band-rehearsal space. Fourteen rooms were built and rented within the first few months. Twenty additional spaces are being added.
Another six art spaces opened at the Turtle Creek property in 2019 and 12 more are being added to the Mt. Lebanon location. Ten more band rooms are being constructed at the original South Side location, rounding out the studio spaces available within the portfolio. With more than 200 studio spaces for rent throughout Pittsburgh and with all the growth, it only made sense to unify them under one brand. In 2018, 412 Studios was officially born.
Studio Features
Providing workspace for artists of all kinds has been a huge success for STORExpress and the communities it serves. These spaces are multi-faceted yet affordable, even for those who are just starting their careers. With studios ranging from 100 to 950 square feet, the charm and eclectic features are appealing on many levels. Every space is equipped with amenities, so tenants don't have to worry about additional expenses such as Wi-Fi, heat or electricity.
Art studios include natural lighting from windows and skylights to ensure artists have the best illumination. Band spaces have soundproof walls for privacy and concentration.
The studios in Etna and South Side offer a common area for artists to socialize with others in the building. They include industrial sinks for those with supplies and materials that need rinsing, couches for lounging, and a kitchen. Every property provides free parking. Keycode access and 24/7 video surveillance are set up for the safety of belongings and equipment. Of course, all leases are month-to-month contracts. Spots fill quickly at every property due to high demand.


Other Profit Centers
People need storage for a wide variety of reasons, and STORExpress is determined to accommodate as many of those needs as possible. Along with the art and music studios, tenants can lease: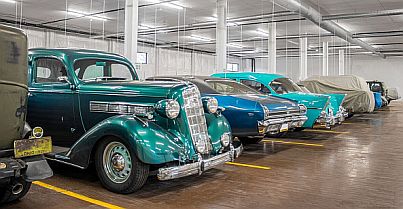 STORExpress prides itself on being the "neighborly place for life's needed space." Being involved in the community has strengthened its ability to serve the needs of its customers and develop new ways to offer non-traditional space.
STORExpress operates one facility in Ohio and nine in Pittsburgh and Western Pennsylvania. It also has two sites under development in Pennsylvania. Founded in 1998, the company's portfolio comprises more than 1.3 million net rentable square feet. For more information, e-mail info@storexpress.com, visit www.storexpressselfstorage.com, or find them @storexpressselfstorage. For the online article visit, Inside Self Storage