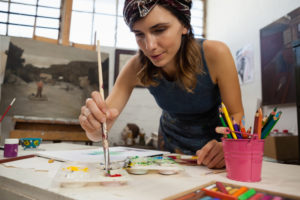 So, you went to your first paint-and-sip art class and now you're inspired to tap into your inner Picasso. Whether you thank that Pinot Noir you drank while painting or your natural talent for your masterpiece, here are a few tips to perfect your painting the next time around:
Grab Some Supplies. If you're interested in painting for fun in your spare time, start by purchasing some basic supplies. To create your artwork you'll need paint, paintbrushes, canvas (or anything else you want to paint on), palettes, water, soap, and an apron. Most paint-and-sip franchises use acrylic paint which can be bought just about anywhere from dollar stores to craft stores and big-box retailers. Don't forget to purchase the primary colors first so that you can mix them together to create secondary colors.
Find a Practice Space. It doesn't matter if you break out the brushes in your kitchen, on your patio or in your bathroom tub. The most important thing is to choose a space where you can unwind, clean up easily and focus on your art.
Watch and Learn. If you're new to the painting scene, watching YouTube videos can help you start the process of becoming an artist. As you probably already know, YouTube has videos on an array of topics including paint styles and tips to help beginners. You can even find beginner tutorials on how to recreate different paintings. Put "painting tutorials" in the search bar and watch 9.4 million videos pop up.
Pay Attention to Detail. If you're taking an art class or venturing into art by yourself, pay attention to the fine details of the painting that you're trying to recreate. Look at the methods that the artists use to produce the final piece. Take these details, learn from them and translate them into in your own way.
Have Fun. Art has no limits so you don't have to create a carbon copy. Your art should be a reflection of your personal style. If you want those white flowers to be pink or the sky to be purple instead of blue, go for it!
Are you or someone you know getting serious about art? We have art studios available! Call us at 412-449-0123 to schedule a tour!