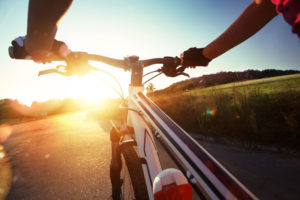 Following these bicycle storage tips will keep your bike in excellent condition, which in turn will allow you to peddle farther down the roads of Pittsburgh this summer. Storing your bicycles in a dry, clean, and secure space is critical for preserving their condition and performance. To help with your bicycle storage, we're offering easy bike storage tips that cycling enthusiasts can use to keep their bikes in the best condition possible.
Clean Bikes Before Storing
Before you place your bike into storage, it's important to first clean your bicycle. Take a few minutes to wipe and polish the frame, reflectors, handlebars, and seat. Use a brush to remove any mud and grit from the wheels, joints, and brakes, and then you're ready for bike storage. This will also help you prepare your bike for riding as soon as it's removed from storage.
Store All of Your Bicycles Together
To help stay organized, and get you on the road quicker, it's best to store all bicycles together. As a cyclist, you could own a wide variety of bicycles. This ranges from mountain bikes to touring bikes, 10-speeds, and everything else in between. Whether in a garage, basement, shed or self-storage unit, keeping your bikes together helps maintain their condition and prevents damage to the bike or other items that you're keeping in storage.
Beware of the Garage for Bike Storage
Cars, snow blowers, shovels, and tools could be hazardous to bikes stored in your garage. It only takes a simple bump from your car door to knock a nearby bicycle over, causing damage to the bike and any number of other items. If you must use your garage for bicycle storage, consider hanging them from the ceiling with manufacturer-approved bike hooks. But if this can be avoided, we recommend keeping your bicycles out of the way of everyday items and placing them in year-round storage at a self-storage facility near you.
Bike Storage with Self-Storage Units
Storing your bicycles in a self-storage unit will keep the chains and tires out of the elements, preventing rust or cracking. It will also help keep your garage organized. At STORExpress, our 10 storage facilities throughout Pittsburgh offer 24/7 access to your unit. This means that you will have the ability to grab your bike for that early morning ride through Pittsburgh as well as that late-night trek after work. We have many sizes of self-storage units so you can store a single bike or entire stable. Locking your bike up in a storage unit also provides a safer storage solution. You could even pull out one bike at a time during riding season, leaving the others in storage until you need them.
STORExpress offers bicycle storage as well as all other households, business or car storage solutions. Visit one of our 10 self-storage locations today to speak with our customer service team to find the storage unit that's right for you. When you're out on your bike, enjoy the ride this summer!