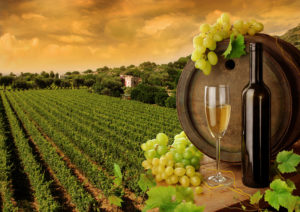 With the recent spate of wildfire across California, many people across the affected area were forced to evacuate, including several large vineyards. This has some wondering how this will affect California's economy in the coming months, especially since wine production accounts for an estimated $57 billion annually.
There are an estimated 1,900 licensed wineries and cellars across Napa and Sonoma counties, and while many did suffer damage to some extent, it's actually California's Central Valley which holds a majority of the vineyards that produces grapes for wine. While those properties that did get hit by the fires suffered unimaginable damage to their structures, many vineyards are too spacious to burn entirely.
It won't be clear until much later how the fires will affect future crops, as many plants that were lost won't be fully replaced for at least five years. Even those who stayed safe aren't without setbacks, as they are still at risk of receiving tainted water and soil from the aftermath of the fires in the months to come. It's estimated that 85% of this year's crop has already been picked, so it's unlikely that many wines will see any price surge in the near future. However, the more expensive, smaller batch wines from well-known vineyards who were affected will see increases of up to as much as 33%.
Amid such destruction, it's important to keep in mind that storing your valuables properly is important. With STORExpress' 24/7 electronic keypad access and our South Side location's specially designed wine storage area, you can be sure that your wine will be held in the perfect conditions and that it's ready whenever you are. Visit www.storexpress.com today for more details and to schedule a tour.