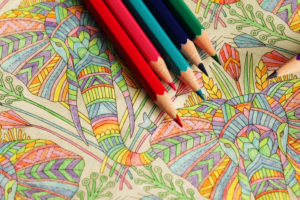 Are you stressed at work? Is your anxiety getting to you? Break out that adult coloring book and some colored pencils for a quick stress reliever! The colors you use will say a lot about your subconscious and will offer you more insight into the adult you! While you should leave the art therapy to the professionals, coloring offers a lot of positive mental health benefits.
Here are 5 reasons why you should start coloring:
Meditative properties. Coloring allows you to redirect your attention and exercise mindfulness. Clearing your mind of clutter is necessary for de-stressing.
Stimulate Both Hemispheres. Your brain is split down the middle into the left and the right hemispheres. The left side of your brain is responsible for the logistics and organization. The right side takes care of creativity and emotion. Coloring stimulates both sides of the brain because you are problem-solving by figuring out colors that are attractive together, balancing out the pictures and imagining how you'd like your piece to turn out.
Encourages Positivity. Coloring helps to rid the mind of negative thoughts and replaces them with positive ones. It also takes you back to your childhood, which usually was the most stress-free time of your life.
Self-Expression. Even if you buy the same coloring book as someone else, the colors and designs you create will be different because it's a reflection of you. Combining colors that look attractive together, making the piece symmetrical or asymmetrical, coloring in or outside of the lines and using fine motor skills all let you express yourself creatively.
Bond with Others. Make it a group activity with family and friends. Coloring is beneficial alone but even better when you can share it with someone. Throw a coloring party where the guests color a picture and then gifts it to someone else. It'll be gratifying to know that someone appreciates your art as much as you do.
You're not limited to a coloring book! Finding a way to express yourself artistically can improve your creativity, fine motor skills, self-expression, reflection and your mood!
Are you an artist? Check out our Art Studios!