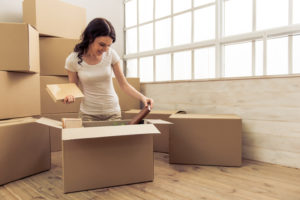 Your kid finally left the nest and is college-bound. As a parent, you're feeling a range of emotions from excitement to nervousness and maybe even sadness. Well, here's some good news that might cheer you up! You can finally create your dream room with your kid's vacant room.
First things first, declutter. Go through their room, clean up and box up any personal items your student has in the room. Put it in a storage unit so they can decide what they want to get rid of or keep. Also, make sure you warn them before you explore their room, there are some things you just can't unsee.
Next, decide what you want your new room to be! Here are a few ideas:
Bar- You can create a great bar even without a large amount of space. The main parts of a bar are a counter, bar stools, mini fridge, glasses, storage space, wine and spirits of course. There's really no "right way" to create a bar. You can personalize it with a flat screen, couches, chairs, tables, a wine cooler, kegs, and taps. The possibilities are endless.
Theater- Create a comfy home theater by connecting a home projector system, adding reclining theater chairs, bean bag chairs, blackout curtains, blankets and a popcorn machine.
Closet of Your Dreams– Repurpose your college student's room into the ultimate walk-in closet. Add cabinetry to the perimeter of the room, shelving, a vanity, a couch, chairs, a beverage station, mirrors and a rug and you're in business!
Game Room- Decide what kinds of games you want to play and base the design of your game room off that. If you want to play video games most of the time, add a flat screen, sound system, gaming chair, and couch. If you were leaning more toward board or arcade games, add a large table, a couch, some chairs, a pool table or air hockey table or even an old-school arcade machine.
Study – Looking for peace and quiet? Go with designing a study! Add shelves around the perimeter for all of your books, lounge chairs to read in, a desk and computer.
Make a Guest Room and Rent It Out- After you declutter the spare room, put it on a rental website like Airbnb.com or Homeaway.com. This is a way to make some money and have a room available when your student comes home.
Now that your child is at college, it's time to do some of the things that you've always wanted to do!
Looking for a place to store your college student's stuff? STORExpress has student storage!