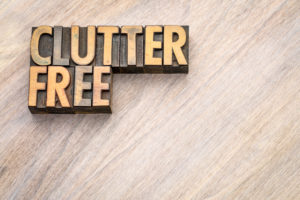 Declutter your home and lose weight? Really?
Recent research suggests that people who live in cluttered homes are more likely to be overweight than those who don't. Sound crazy? It really isn't.
Think about it: It's dinner time, and you want to steam your veggies, but if the kitchen counter is a mess and you can't find the steamer, frustration sets in and dinner will inevitably be take-out. Or you want to take a walk after work, but you can't find one of your sneakers because it's buried under a pile of shoes and clothes in your closet. How long until you give up looking for it and plop down in front of the tv?
When your home is simplified and organized, you have more space to grow, both mentally and emotionally, and you can practice healthy living habits.
Here are some tips to get you started on weight-loss decluttering:
First, throw out the real garbage. Go through your house and throw out old bills, magazines, boxes, bags an anything else that is genuine junk. At the same time, go through your kitchen and throw out junk food, expired food, and condiments that never get used.
Clear a room that you spend a lot of time in. This could be the living room, an office or your bedroom. Throw out or donate old books, files, clothing, gadgets and anything else you don't use or don't need. Place items that you want to keep but don't use on a regular basis into self-storage. Remove and rearrange furniture to create space. Having one decluttered room will make you feel more in control.
Continue clearing the rest of the house. Spend the next few weeks working your way through your home, room by room, until you have cleared out all of the excess clutter.
Simplify your kitchen. Replace processed junk food with fresh fruits, veggies, and meats. Arrange your cooking utensils and pans so that they are easy to grab when you need them. Free up time by cooking enough for next day leftovers.