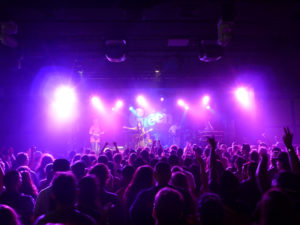 While it may seem that famous musicians never held a real job, the truth is that for some, fame was a long and winding road littered with dead-end jobs. Here are a few musicians who worked normal jobs to make ends meet before the bright lights of stardom came calling.
Henry Rollins: Most people know him as the angry lead singer for the punk band Black Flag, but in 1980, at the age of 19, Rollins was a manager at Haagen Dazs. At a Black Flag show in New York, Rollins jumped onstage and sang "Clocked In." A few days later, Black Flag called him and asked him to audition to be the lead singer. "I looked at the ice cream scoop in my hand…my chocolate-bespattered apron…and my future in the world of minimum wage work…or I could go up to New York and audition for this crazy band who was my favorite. What's the worst that's gonna happen to me? I miss a day of work…ooh, there goes 21 bucks."
Tom Waits: When he was 16, Tom Waits worked as a dishwasher and pizza cook at Napoleone's Pizza
house in San Diego. While working the overnight shift, Waits said he was inspired to be a singer after listening to songs by Patsy Cline and Ray Charles on the jukebox. Later, he immortalized the still-open pizza shop in songs like "The Ghosts of Saturday Night ( After Hours at Napoleone's Pizza House)" and "I Can't Wait to Get Off Work (And See My Baby on Montgomery Avenue.)"
David Bowie: Working a 9 – 5 does not seem to fit into David Bowie's meticulously crafted otherworldly persona, however before he became Ziggy Stardust, Bowie did a stint as a butcher's delivery boy. He used the money to pay for saxophone lessons.
Tom Araya: The Slayer singer and bassist helped finance the band's first album, Show No Mercy with
the earnings that he made as a respiratory therapist. Araya fired himself from his job after the hospital he worked for would not let him take a leave of absence for Slayer's first European tour.
Kim Deal: Before becoming the bassist for The Pixies, Deal worked several jobs in cellular biology.
With lots of practice and dedication, these musicians made their dreams come true. If you are a musician looking to take your craft to the next level, rent a band rehearsal space from STORExpress!