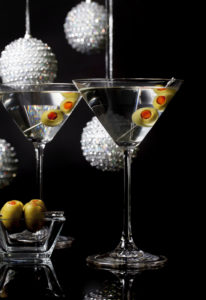 With the holiday season fast approaching it's time to start thinking about holiday parties. Whether you're having over family, friends or co-workers it's important to have a game plan to ensure your party goes off without a hitch. Here are some pro tips to perfect your holiday party execution:
Plan Ahead. The best way to execute a successful party is to have a strategy for the night. Plan ahead and make sure everything is good to go a few days before the event itself. That way if anything does go awry, you'll be prepared to rise up and meet the challenge.
Focus on Simple Food. Don't go overboard with complex, multi-course meals. Instead make several smaller, easier dishes that are filling and offer variety without making you want to pull your hair out. Remember the fewer utensils necessary the easier the cleanup.
Streamline the Cocktails. While we're on the subject of simplicity, it's important not to overthink the cocktail bar. Focus on a single house cocktail then supplement with beer and wine. There's no need to keep a bar full of liquor if you do one cocktail well.
Stock Up, Dish Out. It's important to have enough of everything because no one wants to be at a party that runs out of food or drinks. Take this into account and overshoot what you think you need so you can be sure no one goes without. Chinese take-out boxes make great doggy bags for your guests. They will leave happy and you'll have less to clean up.
Be Flexible. People are busy around the holidays, so be flexible when it comes to start and end times. This way, guests can show up when it's convenient for them, allowing more people to come throughout the day. Also, this allows you to make small adjustments throughout the day as problems arise without making a big scene.
Follow these tips to take the stress out of holiday party planning and host a party that people will remember for years.
If you need some extra space for your holiday party this year, stop by STORExpress and check out our affordable storage units. Don't wait until it's too late, free up some extra space in your home today! Visit www.storexpress.com for more details.