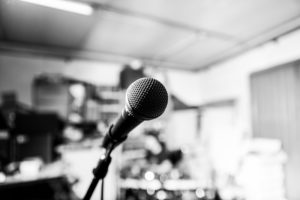 You've practiced day in and day out and you think you're ready to hit the stage. The only problem is, you don't have a place to perform. If you're a musician or band looking to book your first gig, expand your fan base or you're just ready to take music to the next level follow these tips:
Network. It doesn't matter how talented your band is if no one else knows how awesome you are. The easiest way to get your name out there and get gigs booked is to network with other musicians. You will be able to share experiences, gain insight and get advice on who to talk to and which places are the best to perform at. You can even team up and pitch two or three of your bands to a venue, like a package deal.
Find Venues. While you're networking, research and talk to owners of the venues where you would like to perform. Compile all of the venue information into a collection. Make sure you get as much information on that venue as possible. If you're really interested in a particular venue, ask other musicians if they played there before. You might find out some new and interesting information.
Show Off Your Talent. If you're trying to book at a reputable venue, they will probably ask you for a demo. Luckily, we live in an age where you can create a professional looking demo for next to nothing. Tackle this project like a music video or a highlight reel. Hire a videographer or have one of your aspiring filmmaker friends record you on their iPhone, the choice is yours! Upload the video to YouTube so venues can easily see what you are all about!
Market Yourself. Even if you're not a mainstream musician you still need to market yourself. Create a media kit for your band. Be sure to include a biography, pictures, contact information, upcoming gigs, and a summary page. Be present on social media so that all of your fans know where your gigs are. Even if you're not promoting a gig or event, fan interaction is huge. Once you make your demo and post it on social media, your fans might be compelled to share it and BOOM, you're an overnight internet superstar!
If you're a band serious about your music, rent a sound-resistant rehearsal space at STORExpress. Take you and your band to the next level by being prepared for any gig that might come your way!
Take a virtual tour of our Etna/Sharpsburg band rehearsal rooms: