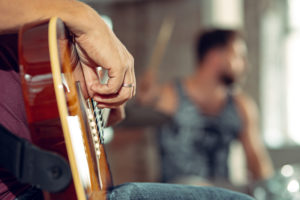 For every minute of stage time, there are dozens of hours of rehearsal time that go into making a song performance ready. Here are some tips to make sure you are rehearsing effectively.
Rehearsal Time is NOT Practice Time
Practice is the work done individually that prepares a musician for rehearsal. Rehearsal is a group effort that is used to write and learn new music, improve tonal balance and timing. To make band rehearsals more effective, each band member should be practicing for rehearsal. That way, more time is spent on improving the cohesive sound of the band.
Plan Your Next Rehearsal
Your rehearsal plan should include break times, setup and tear down times and a set list. If there is band business to be discussed, auditioning or equipment testing, these things should also be included in the plan. Email the rehearsal plan to the other band members along with a reminder that includes the time and location of the rehearsal.
Take Notes
Songs can radically change during rehearsal. Make sure you write down any changes that occur. Keep a binder or a specific notebook for all changes.
Set Up Rules
Expectations for band rehearsal should be agreed upon and posted somewhere visible. Things, like showing up on time and being prepared, eating before rehearsal and keeping personal phone calls and texts to a minimum, will help your band rehearse more efficiently.