Do you ever find yourself struggling to keep your art studio organized? For many artists, their studio space is filled with all sorts of different art supplies that may be hard to keep track of at times. If you're an artist of many trades, you may find it troublesome to keep supplies for numerous projects organized while working. Although the beauty in art is to be creative and sometimes "messy", having an environment that's well organized can make a huge difference in your level of inspiration and productivity. For those of you with your own art studio space, craft room, or even home office that you use to create your art in, here are some unique and helpful ways to organize your art supplies!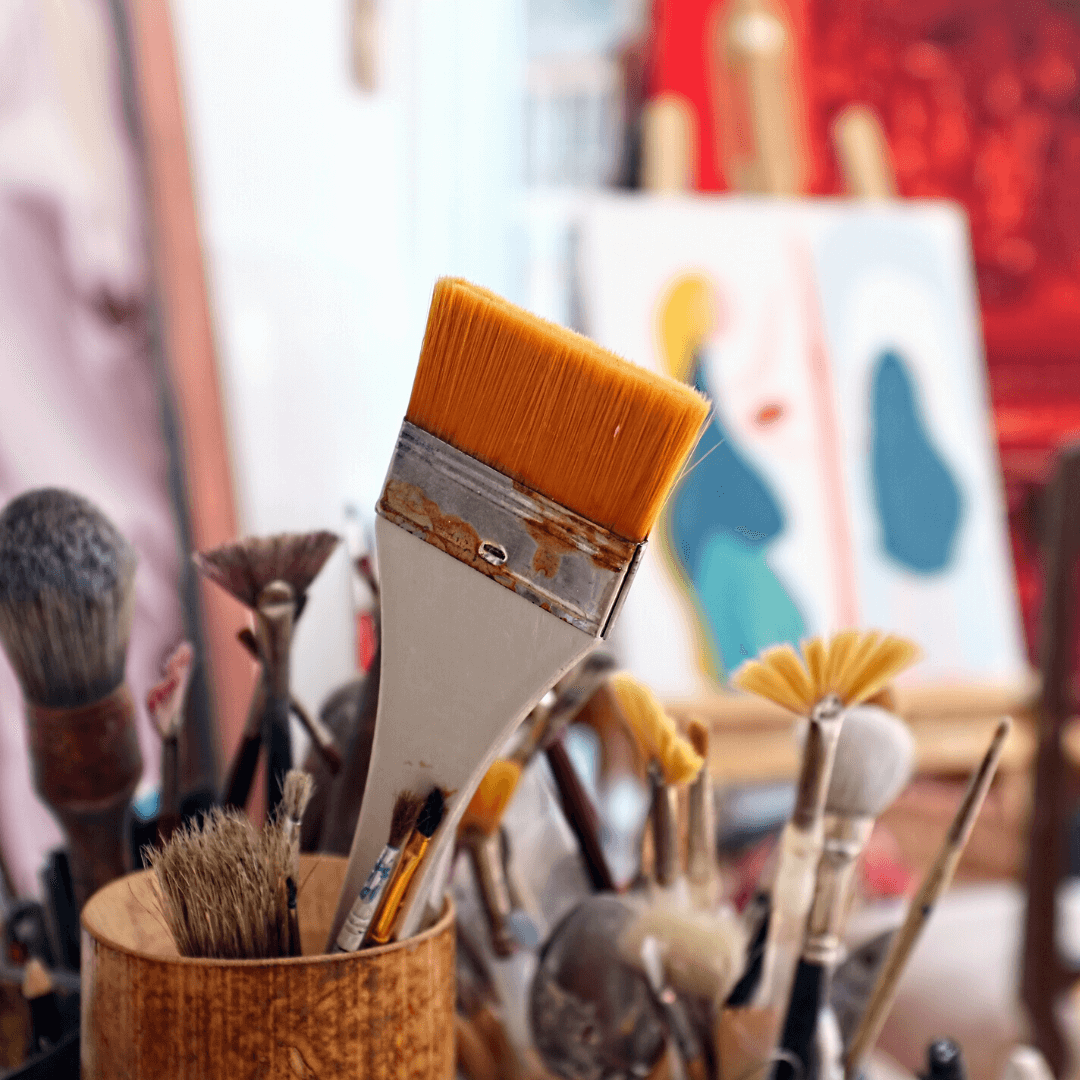 1. Declutter your art supplies
Just like your home, start by going through and laying out all of your art supplies to see what you have. Create a donate or throw away pile for supplies that aren't useful to you anymore so you can make a more organized space for those that still are. Many local schools, community centers, churches, etc., are always happy to accept donations for their projects, so be sure not to throw anything away without reaching out!
2. Use storage containers for supplies
Buying storage containers in various sizes is extremely helpful for organization. Determine how much space you have in your art studio to see where you will be able to put these storage containers before purchasing! Small storage bins are helpful for supplies such as your paintbrushes, paint, tools, sponges, etc.! Be sure to label each bin so you can easily find your supplies in a timely fashion. You can even use storage boxes for a short-term or inexpensive solution to declutter your workspace.

3. Hang supplies for more storage
It may not be the first solution you consider, and many don't realize the amount of space that could be utilized on the walls of their studio. Using your wall space can nearly double the space that's available in your room! There are many available shelves and wall solutions out there, but here are a few options that are great for storing and organizing your art supplies:

4. Using unique items for art supply storage
Here are some storage tools that aren't directly related to art but can be exceptionally useful!
Serving racks – Using a food or spice rack is a great way to keep those small art pieces organized and easy to find.
Hutch or dresser – If you happen to have extra furniture laying out in your house (like your garage, spare bedroom, or basement) see if you would be able to move it into your art studio space for better organization. The extra shelving or drawers could be the perfect solution you have been looking for!
Mason jars – Buying mason jars or using some from your house is a quick way to get utensils and paintbrushes organized. You can also gather other kitchen glasses, vases, etc. to arrange your supplies.
Door storage – If you are using a closet, hutch, or anything that opens, take advantage of the inside of the doors! Before attaching any type of tool or shelving to the back, make sure to check if there is space to shut the doors before proceeding with this idea!
Overall, it's best to think about all the convenient ways you use storage in your home and apply it to your office/art studio! There are many cheap storage solutions to allow you to get organized and have the space you need to create your art!
If you're interested in an art studio rental or affordable workspace, visit our website for more information! Studio spaces are available at our Pittsburgh and McKees Rocks locations that can be utilized for multiple professions and small business owners!
For more related information, check out:
Decluttering Tips for Your Home
A Creative Place for Profitable Space