Out of all the rooms in your house, the kitchen is typically the most time consuming and intimidating to pack. Dishes, china, glass bowls, and oddly shaped items must all be delicately wrapped and placed into boxes. However, this can be easily accomplished with simple preparation and the right supplies. Below are our expert tips on accomplishing this daunting but necessary task.
Gather materials
The first step when tackling the kitchen is to ensure you have all the packing material needed for glass, china, and odds and ends. Check out a former blog post here for more information on what packing supplies you will need. A good rule of thumb when taking inventory of your material is that you will most likely need more than you think. Remember to grab different sized boxes to properly pack the smaller or larger material.
Organize
Like any other room in our house, the kitchen can acquire a multitude of unnecessary or unused goods. Set aside time before moving to simply open up each cabinet in your home and remove any items that you no longer use and either donate it or throw it away if it no longer works. You can also contact your local soup kitchen and inquire about items they may need or have use for. This step will remove any unnecessary items from your next kitchen, and prevent you from having to move useless items.
Set aside essentials
On moving day, inexperienced packers may pack up their entire kitchen with no rhyme or reason, only to be left without forks, plates, and spoons for the next meal in their new house. Save yourself from this and leave the essentials out of the "typical kitchen" boxes. Once you are all moved into your new home and ready to enjoy your first meal, you will be relieved to know exactly where your essentials are located.
Let's start packing!
From pantry items to large pots and pans, each drawer or self will require its own set of packing skills. Give yourself a large area for a workplace complete with your gathered packing materials and get ready to roll. For pots and pans, use a large box and start with the largest saucepan. Wrap in paper and gently nestle it in the bottom of the box. Then come any pots and smaller saucepans. Work each pan within another and be sure to use enough paper as the pots will not shift or scratch one another. Glass lids should be completely wrapped in paper and placed around the pots or in a separate box. Glasses and stemware offer their own unique set of challenges. It's worth the investment to purchase specialty boxes with dividers to keep the glasses from shifting or shattering. Be sure not to stack anything on top of your glassware.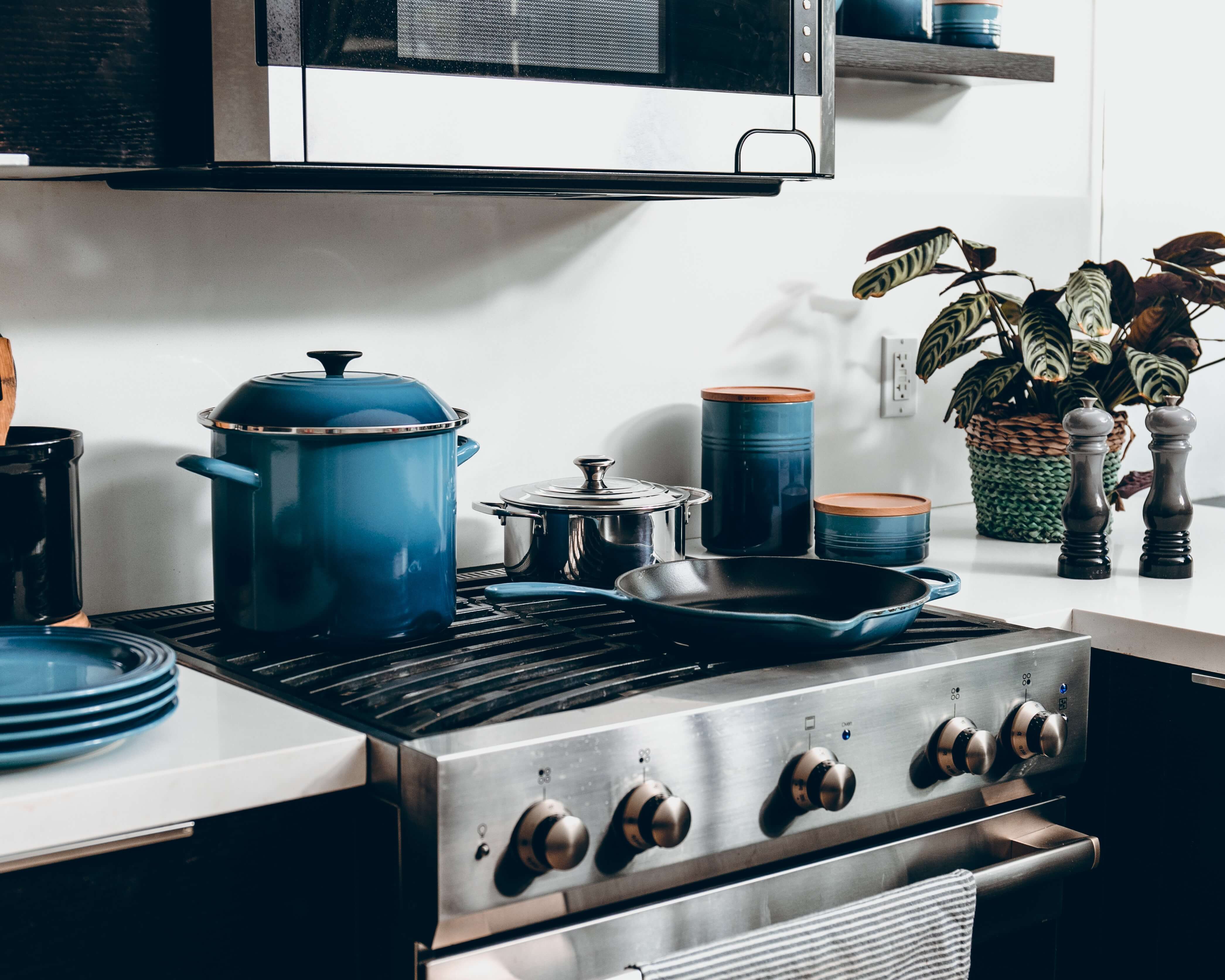 Smaller appliances can often be a hassle to pack due to their accessories. It's best to keep the original box and store them in their designated boxes, this way they will be stored along with all their matching accessories. However, if you do not have the original box, pack small appliances in a large box, filling in any spaces with crumpled tissue paper.
Pantry Items
Starting with the spice cabinet, use a small box and create a nest for your spices so they do not shift. Any spice jar made with glass should be wrapped in paper and placed in between other spices so that it does not shift in transit. When packing up jarred or canned goods, check the expiration date and pack in a medium box or a reusable canvas bag. If you find some items that you will no longer need, reach out to a local food pantry and donate excess food items. If traveling a long distance, it may not be worth it to transport and items that need to be refrigerated. For short distances, find a heavy-duty cooler and pack perishable items last.
Packing up a kitchen is not an easy task, however with the right materials and enough time set aside, the kitchen will be appropriately packed and ready to be transported. Stash essentials in a separate box, and store it in your own vehicle for safekeeping. If you ever find yourself needing storage along with a free truck rental, look into a nearby self storage facility for affordable options.