Over the past few weeks, there were numerous storms and flash floods throughout Western Pennsylvania. The ground had already been saturated from the first storm and many people were caught off guard by the rain that just kept coming. Don't get caught in the next storm without knowing how to get ready for it. It's better to be safe than sorry. Here are some things you can do to prepare yourself, your family and your home for flash flooding.
How to prep for a flood:
Know the difference between a watch and a warning.
A flood watch means that flooding is a possibility. A warning is more serious than a watch. It means that flooding is already happening or about to. Make sure to keep up with your local news to get all of the updates on your area. A battery-powered radio is a good idea to keep handy in case there is a power outage. If it is only a watch, you might not need to take action just yet. You do, however, want to already be prepared in case it does change into a warning.
Have an evacuation plan.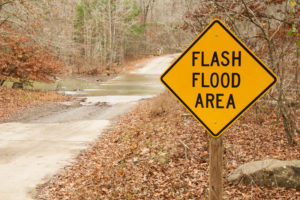 You should sit down and talk with your family about what to do if a flash does occur. Map out the different routes you could take depending on wherever is less likely to flood. Figure out the safest and most elevated streets. Make sure to check the borough website for maps of flood zones. Not having a plan set up already will delay time. If you wait too long to evacuate, a lot of your escape routes may be closed due to the flooding. You should set up a designated meeting place in case of separation during the flood.
Put an emergency kit together.
An emergency kit is essential for any type of disaster. You will need clean drinking water and canned food items or non-perishables. A radio, flashlights, extra chargers and batteries, cash, first aid kit, medicine and personal hygiene items are all important to have. If the flooding is really bad, you may need flotation devices. You can always add other supplies depending on what you think you will need.
Turn off and unplug.
In some cases, you may be instructed to turn off your main utilities. All of your electronics should be unplugged. If they are still plugged in and happen to get wet, you will get shocked.
Keep important documents in safe deposit box.
Keep valuable papers such as your insurance policies, social security cards, photo IDs, credit cards and other important documents in a safe deposit box. They will be protected from the water in the box, but you also want it to be placed higher so it won't wash away. You might need the insurance policies handy as well, so keep it somewhere convenient in case you need to bring it with you.
Elevate your belongings.
Obviously everything can't be put off of the ground, but the more things that are elevated, the better. You don't know how high the water will go, so raise valuable things up to have a less likelihood of being damaged. Things really low to the ground will be the first to be ruined so put those up first. Roll up rugs or carpets if possible and store them up high.
Bring outdoor items inside.
This may seem like common sense, but a lot of people forget about the various objects they have outside of their home. This can include lawn or patio furniture, grills, children's toys, garbage cans, recycling bins and whatever else is moveable from outside. If something is too big to move or you don't have room for it, make sure it is securely tied down so it won't drift away.
Secure your home.
Make sure all of your doors and windows are securely locked. Storms create strong winds that can push these open if they are not closed properly. Garage doors could also be forced open by a large amount of water coming in.
Declutter.
During your next spring cleaning, think about what you really need and what has no use. Having a cluttered home makes it harder to protect the items you really care for because there is too much other stuff to worry about. Packing and moving all of your things to try to be more elevated or stored away in a safe place can be a hassle. Whatever you don't want anymore could be sold or given away. A storage unit is also great to store whatever extra items you don't necessarily want to give up, but also don't need in your house daily.
Store your items.
Most flooding occurs in your basement and garage. If you know that some big storms are coming up, consider storing your belongings in a storage unit ahead of time. You will eliminate the risk of ruining all the items you have downstairs. If a flood does occur, it will be easier to clean up without all of the clutter everywhere.
Store your car.
Since your garage would be the first thing to flood, your car is at a higher risk to get ruined. During the first flash flood this week, a woman had an antique car ruined in her garage because the water came up over the seats. The entire inside was damaged and therefore the engine was covered in water as well. Cars parked on the street are also at high risk with the streets quickly becoming more like rivers and the rushing water washing your vehicle away. It only takes about two feet of water to move a car. Store your car in a car storage parking lot. Indoor car storage would be ideal, but outdoor car storage is also better than the street or your garage during a flood.
STORExpress has plenty of storage units to move and store your items. The various locations make it conveniently close to your home. A free truck and gas is also offered to make your move easier. Indoor and outdoor car storage spaces are available as well to store your vehicles. Month-to-month contracts allow you to store your items or vehicles temporarily based on the changing weather conditions. Although, you can feel free to rent for however long you need. Visit www.storexpress.com today to learn more!