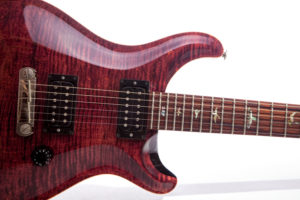 If you and your guitar are taking an extended break there are a few things you should keep in mind when storing it. You can't just throw your guitar into the garage and expect it to be in good working order when you pull it back out.
Here are five tips to follow in order to make sure your guitar still plays like a hot knife through butter just like it did prior to long-term storage.
Get a Good Case. Protect your guitar from dust and dirt that can damage it by investing in a good case. The case also protects the guitar from getting scratches and it keeps the color of the guitar looking new.
Avoid Extreme Temperatures. Guitars should be stored in a climate-controlled unit so the paint and strings don't get damaged. Guitars are very delicate and any extreme temperatures could be detrimental to the life, longevity, and function of your guitars.
Keep It Away From Humidity. Moisture can damage your guitar. Typically you should try to keep it at an average of 40-50% humidity. High humidity can cause your guitar to swell. If you can't control the humidity levels use a dehumidifier. If you're storing long term it's important to put a silica pack in the case to help absorb moisture.
Keep Tension in Mind. When the strings that are on a guitar are tuned and tightened they put tension on the guitar's neck. If you are going to store your guitar long-term, let some tension off of the neck so that your strings don't move, snap or damage your guitar. Just make sure they're not too loose!
Check on it periodically. Check on your instruments from time to time. That's the best way to see how they are doing and if you need to adjust any of your storing techniques. Checking up on your instruments and playing them periodically will make the guitar last longer.
Looking for a place to store your guitars? Check out one of our climate-controlled units!
Are you and your band looking for a rehearsal space? Tour one of our band rooms at our Etna, South Side, McKees Rock or South Hills locations! We have the perfect rehearsal space for you!