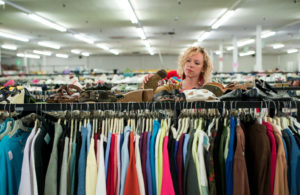 Shopping at thrift stores is a great way to save money, find unique clothing and furniture that you can't find anywhere else, and who knows, you may stumble across something worth a lot of money. If you're ready to hit up a few thrift stores, but aren't sure how to start, here are some hints that will have you thrifting like a pro in no time!
Find Thrift Stores in Your Area
In Google, search for thrift, consignment and second-hand stores that are in the area. Pick which stores you're interested in and create a route using Google maps to save time before you hit the road. You can also take this time to look online for home and fashion trends that you'd like to recreate.
Shop with a Game Plan
Survey your home and see what you already have and what you would like to buy. It's also a good idea to go through your home and collect items that you would like to donate. This way you can control your clutter. Figure out a spending limit of and stick to it.
Head to the Stores
It's game time! You did all of your prep work, now you're ready to shop! Every store is unique so do a quick walk- through to see what items jump out at you. Try to find good quality brands and natural fabrics. Look for items that you can repurpose, upcycle or take to a tailor. Keep your phone handy for any quick internet searches about a product that you want to learn more about. Only buy items that you absolutely love. Most, if not all thrift stores don't allow refunds and/or exchanges.
Items to Avoid
While you can find some great items at thrift stores, there are some things that you should never purchase. These items are:
Highly detailed and embellished items
Items that are damaged, unless you can fix them
Items that have a funny smell
Helmets
Makeup
Mattresses
Infant/Children's furniture
Stuffed Animals
Household Appliances
Underwear
Car Seats

At Home
For clothes: Go through each item, find and follow the washing and drying instructions. Once the items are laundered, find which items you would like to have tailored to fit better. While you don't have to get every item tailored, it takes the item from fitting good to fitting and looking great.
For home décor: Clean the items you bought with soap and water. Decide if you need to paint the items, alter them, and figure out how you will be using them. Don't forget to take pictures and post your finds proudly to your social media!
If you're cleaning out your closet and need a place to store your items, check us out at STORExpress!
Pittsburgh Thrift Shops
Here are just a few local thrift shops to start your thrifting adventure.
Red White and Blue Thrift Store – With two locations in Pittsburgh, Red White and Blue Thrift is the go – to place for a huge selection of brand name clothing, shoes and furniture. Be sure to bring cash, they do not accept debit or credit cards.
Buffalo Exchange – Looking for a carefully curated selection of vintage and new apparel and shoes in a boutique setting? Check out Buffalo Exchange on the South Side! All their clothing goes through a rigorous inspection process to ensure you are getting clothing in excellent like-new condition. You can also sell or trade your old clothing and accessories for new items.
Goodwill – If you enjoy the thrill of the hunt, then the Goodwill is the right thrift store for you! Perhaps the most iconic of all thrift stores, Goodwill has 19 locations in the Pittsburgh metropolitan area and offers a large selection of clothing from lower-priced brands as well as department store mid-tier designer clothing. Goodwill is a great place to find affordable wardrobe staples, but can also be a gem-mine for finding unique vintage clothing and designer apparel.
Repurposed – Like to support good causes while you shop? Then head to McKnight Road and visit Repurposed, a volunteer-run thrift store that donates their proceeds to Living in Liberty, an organization that helps victims of human trafficking. Repurposed has two floors of clothing, shoes and home goods and offers a rewards program.
Construction Junction – If you are looking for unique and inexpensive building materials for your home, look no further then Construction Junction. Boasting 30,000 square feet of fixtures, molding, doors, windows and everything in between, Construction Junction is Pittsburgh's premier destination for salvaged and surplus materials.