What do Fences, Silence of the Lambs and Flashdance have in common? If you guessed they are all movies, you are only partially correct. The tie that binds all of these movies together is that they were all shot here in Pittsburgh.
Pittsburgh has a rich cinematic history dating all the way back to 1914. Since 1990, over 120 tv shows and movies have been filmed in Pittsburgh, earning the region the title "Hollywood of the East Coast."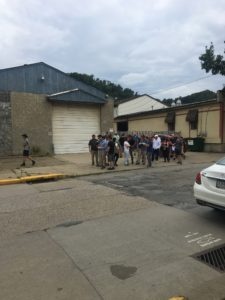 So, when the STORExpress marketing department spotted a crowd of people with cameras and lighting equipment outside of our Etna location, we got curious and sent our marketing intern outside to get the scoop!
Come to find out, filming for the highly anticipated second season of Netflix's original series Mindhunter will begin shooting soon and the production staff was scouting locations next to STORExpress Etna.
The first season of Mindhunter premiered on Netflix in October 2017 and wowed critics and audiences with its gritty portrayal of serial killers and the creation of the FBI's Behavioral Science Unit. Much of the 10-episode season was filmed in and around Pittsburgh.
The second season is scheduled to return sometime in 2019 and according to internet buzz, will focus on famous serial killers such as David Berkowitz and Charles Manson.
We can't wait to see what Pittsburgh landmarks will pop up in season two!