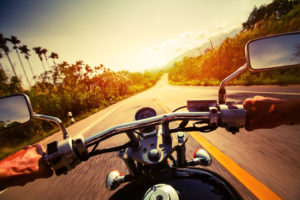 When the weather turns warm and the leaves turn green, many motorcyclists – both new riders and experienced – take their bikes out of storage and hit the road. Motorcycles are a fun and fuel-efficient way to get around, but the reality is that riding a motorcycle is way more dangerous than a driving a car. According to the Insurance Institute for Highway Safety, motorcyclists are 30 times more likely to die in a crash than people in a car.
Despite these sobering statistics, many motorcyclists ride a lifetime without injury. So how can you protect yourself?
Two of the biggest causes of motorcycle accidents are speeding and alcohol. According to the National Highway Traffic Safety Administration (NHTSA), of the 4,323 motorcyclists killed in 2011, 33% of them were under the influence of alcohol and 35% were speeding. Eliminating speeding and alcohol when riding can substantially reduce your risk for injury and death.
Wearing protective gear can greatly reduce your chance of injury and death during accidents. In 2011, 40% of motorcycle riders who were killed were not wearing a helmet. The NHTSA estimates that 1,617 lives were saved by wearing a helmet. And while helmets are important to protect your head, wearing a leather or reinforced jacket, boots, gloves, and pants will help to protect the rest of your body.
Bad weather and motorcycles do not mix. Rain limits your visibility and also reduces your tires grip on the road. If you do get caught in inclement weather, be gentle with the brakes, throttle, and steering to avoid sliding.
Making sure your bike is in good working condition before hitting the road can go a long way to ensure a safe (and stress-free!) ride. Before going for a ride, check for leaks, loose bolts, tire problems, or anything else out of place. Make sure you perform regular maintenance and promptly complete repairs.
Taking a motorcycle safety course can help you become a better rider. These classes go beyond the basic skills you needed to obtain your motorcycle license and can help you break bad driving habits and gain new knowledge and skills that will keep you safe on the road.
And remember, when the seasons change and winter winds blow in, you can keep your motorcycle safe and dry in one STORExpress's climate controlled vehicle storage spaces!