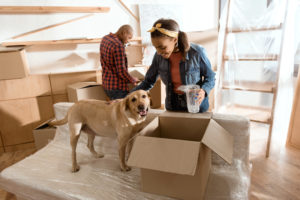 Moving is both exciting and stressful for people, so imagine how the change in routine and environment can affect your four-legged family members! In the chaos of finding a new home, boxing up your items and packing up moving trucks, thinking about the level of stress your pet is experiencing is probably not your top priority. Spending some extra time planning your move will go a long way to ensure that your pet's transition into a new home will go smoothly.
Finding the Perfect Home
When you begin house or apartment hunting, make sure that the space you choose can accommodate your pets. If you will be renting, check with the landlord to make sure dogs are allowed. Every year, over a million pets are given up to animal shelters. Many of these animals are relinquished to shelters due to lack of affordable, pet friendly housing.
Once you have found a pet-friendly home, you need to think about the layout of the home. Can it accommodate your pet's activity level and breed characteristics? A small dog will probably be ok running around a smaller apartment, but a tiny apartment would not be suitable for a large, high-energy dog like a Labrador Retriever or a Boxer. Also, consider the age of your dog. An older dog with joint or hip problems will have trouble walking up and down stairs.
Preparing to Move
When it's time to pack your belongings, start packing small items early on so that your pet can adjust to the transition easier. Most dogs usually don't appreciate or like change, especially when it's abrupt. Easing your pet into the moving process will go a long way in alleviating stress.
If you have a puppy or a dog that likes to chew, keep your packing supplies in a closed off room that your pet cannot access. Puppies + bubble wrap = a big mess and possibly a trip to the vet.
Speaking of vets, if you are moving to a new town, city or state, contact your vet to retrieve records and prescriptions and get a referral for a vet close to your new home. Don't forget to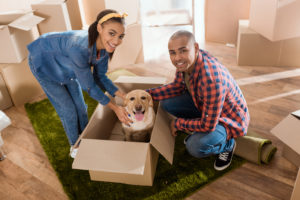 update your pets tag and microchip information!
If you are moving far away and your dog or cat will need to be crated for the drive or flight, try to acclimate them to their crate before the big day. One of the best ways to introduce your pet to their crate is by placing familiar toys and blankets into the crate and then placing treats inside.
Lastly, before packing up your pet's belongings, make sure you pack a kit that will have enough food, toys, medications, treats, and other essentials to get through moving day and the immediate days following the move.
Moving Day
When moving day comes, make arrangements for your pet to stay at a local kennel, with a family member or a trusted friend. Or, if your pet is acclimated to their crate, you can place them in a quiet room with the door shut. Just remember that moving day is chaotic and doors are left open. The last thing you want is to be spending your day looking for a runaway pet who made a break for it when no one was looking.
If you're moving to a different city, state or country make sure that you have your travel plans in an accessible place. If you're driving, you should have planned out where you can stop for pet bathroom breaks. If you are driving cross-country, make sure you have a list of pet-friendly hotels.
Home Sweet Home
When you arrive at your new home, take your leashed dog for a walk around the new neighborhood. Ideally, this should be done a few times in the weeks leading up to the move, but sometimes that is not possible. Show the dog where he can relieve himself. Sometimes dogs can become confused in a new household and may accidentally soil themselves.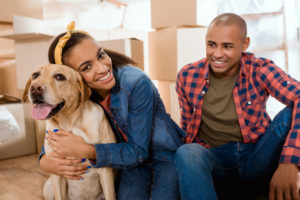 Once your dog seems at ease in the neighborhood, bring him into the house and introduce him, one room at a time, to the new home. Closely supervise your pet, but let him or her investigate the new surroundings thoroughly.
Dogs thrive on routine, so it is always a good idea to set up their bed, food and water bowls and toys before they investigate the house. Having something familiar and comforting in a new environment is comforting to dogs.
Don't forget that your pet feeds off of your vibes. Stay calm, cool and collected throughout your transition and so will your pets!
Looking for affordable self-storage in Pittsburgh? Check us out!