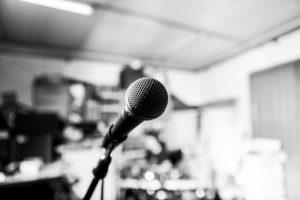 You've done it. You've put in the hours of work, compromise and emotion. You have a set list that you feel confident is the best you've ever had. Your fans are waiting for that debut release and you're confident that you're ready to blow them away. So who do you trust to bring your music to the masses? Here are some options.
ID Labs: Perhaps the most famous recording studio in Pittsburgh, ID Labs has become the home base for platinum-selling Pittsburgh natives Mac Miller and Wiz Khalifa. Additionally, ID has recorded with a plethora of national acts like Snoop Dogg, Kendrick Lamar, Maroon 5 and many others. With a client list that impressive you can be certain that you're going to get a quality experience and leave with a radio-ready sound. Check out more at idlabsmusic.com
MCM Studios: With a client list of over 1,000 and rave reviews, MCM Studios is one of the premier recording studios in the 'Burgh. Their in-house producer HITT has over 20 years of experience and will help you find the exact sound and style that you're looking for, no matter what genre. All of this plus affordable hourly booking rates makes MCM a contender for the best studio in Pittsburgh. Check out more at 412mcmstudios.com
Audible Images: What could be described as the most beautiful and relaxing studio in Pittsburgh, Audible Images really steps up their game when it comes to making you comfortable. With amenities like a kitchen, lounge, dining area and even an outdoor water garden, AI will make your recording session feel more like a mini vacation. Additionally, its proximity to an assortment of cafes, shops, restaurants, and hotels makes it a destination recording studio. Don't let all that fool you though, AI also provides professional staff and equipment to make sure you get exactly what you want out of your experience, which is to be expected from a studio who has worked with national acts like Ariana Grande, Dave Matthews, Black Label Society, Wu Tang Clan and many more. More info at audibleimages.net
Fire K Studios: Fire K Studios offers something a little different from your typical recording studio. While they do still offer a traditional experience with a spacious live room and two comfortable isolation rooms that allow bands to track together without any interference from one another, they also offer their studio, with all the bells and whistles included, to anyone who would like to mix, master, and record themselves. Have a specific style or tone you know you don't want anyone to mess with? No problem, Fire K will give you the keys to their kingdom and allow you to do as you will with your music. Talk about creative control! If you're looking for a more traditional recording experience have no fear, Fire K has that too! However, their unique hybrid style of recording with half analog and half digital equipment creates a unique blend of old and new styles sure to make your record stand out. More at firekstudios.com
Mr. Smalls Recording Studio: Perhaps the best known recording studio in Pittsburgh, Mr. Smalls has a reputation of excellence when it comes to audio recording. With clients like The Black Eyed Peas, 50 Cent, Anti-Flag, Meatloaf and many more it's no wonder any local musician knows about Mr. Smalls. Offering one of the best sounding live rooms Pittsburgh has to offer, coupled with an experienced professional staff, supplemented with their desire to be with your band from the time you lay down that first note until the record is mixed, pressed and in your hands, Mr. Smalls is hard to beat when looking for a recording studio. Check them out at mrsmallsrecording.com
While this list is not exhaustive it is a great jumping off point for any musicians in the Pittsburgh area that want to get serious about their music. If you're tired of practicing in a cramped, dark, dingy basement or garage why not try one of the many band rooms at STORExpress? Our spacious, protected, sound resistant rooms allow you to practice how and when you want without the threat of waking up the neighbors or missing out when inspiration strikes. Gone are the days of schlepping equipment into and out of your house when you have a show. Keep everything in our conveniently located spaces that allow for easy loading and unloading with a short drive to downtown to make sure you get to your gigs on time. We include utilities, so you can practice for as long and often as you want without the risk of running up your electricity bill. What do you have to lose? Get more info here !