Avoid worrying about your home while relaxing on vacation.
Follow these 7 steps to make your traveling stress-free!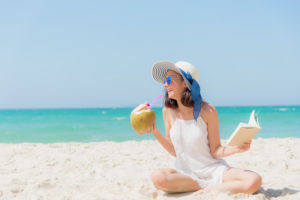 Prevent burglars by making your house look lived-in.

Ask your local post office to hold your mail, or ask a neighbor to collect it for you.
Put timers on lights by windows. Make sure they are on during afternoons/nights.
If you are gone for an extended period of time, ask a neighbor or friend to trim your lawn.
Inform your security company that you are going on vacation.

Conserve energy.

Unplug large electronic devices (televisions, toasters, microwaves, computers, etc.)
Limit heating/cooling. If you are leaving in the summer, limit the air conditioner. 85 degrees is usually stable enough protect furniture, plants, and art. If you are leaving in the winter, turn down the furnace but ensure that it is warm enough to prevent water pipes from freezing.

Ask neighbors to periodically check your yard and house. Also, give them a house key if you need them to water your plants or feed your pets.
Clean your house to avoid long-term messes.

Run your garbage disposer with vinegar and some water.
Toss out any food in the refrigerator that will expire.
Take out the trash, especially in the kitchen where it could release odors.

Inform your credit card company that you are traveling. Make sure to give them your exact location and dates of travel, so they can expect any foreign payments.
Shut off water lines to washing machines. Flooding can result in thousands of dollars of damage.
Check to see if the stove is turned off!