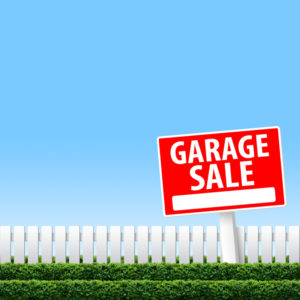 When you have a lot of things all in one space it tends to get overly cluttered. Once this starts happening a garage sale is never a bad idea. Instead of keeping all the junk you have laying around, why not sell it and make some money?
Here are some tips to stand out from the crowd:
Save up! Whether you run a garage sale every week or every season it's important to stock the items that you want to sell. Store the items in a storage unit so that you will have a centralized space to store your garage sale items without cluttering your home. If you document the items you want to sell when you move it into storage, it'll help keep you organized and save you preparation time when it gets closer to your garage sale.
Time It Right. Timing is everything. If you have a garage sale at 9 PM on a Sunday night, it's highly unlikely that you have a large number of customers coming to look at what you're selling (especially if your garage sale is in Pittsburgh during Steeler season, you'll be highly disappointed— again, timing is everything). Picking a day in advance that doesn't conflict with holidays is the best way to go. Popular days to have a successful garage sale would generally be during the weekends. Most of the time, it's best to start in the morning, that way you have all day to sell your items.
Advertise Everywhere. If you want customers to come to your garage sale, advertise it around your neighborhood and surrounding areas. You can print out flyers to distribute and make posters to staple to the poles. Post advertisements in popular places where they are sure to get attention. Make your posters visible enough that someone passing by in their car can see the vital information. The most important information to have on your advertisements is the address where your sale will be held, and the date and time. If you have big-ticket items that you're selling for a low price, include them in the handheld advertisements. Be sure to utilize the businesses in your area. They're usually happy to advertise community events including garage sales. You can also advertise your garage sale on sites like Craigslist, community websites and on social media. Don't forget to take down the posters, signs and online ads after the yard sale.
Presentation Matters. Make sure all of your merchandise is clean and in order. This allows the customers to easily see what you're selling. If you want to take your sale to next level, decorate your selling space. You don't have to go all out but having a tablecloth, a few balloons, and signs to let customers know that they are in the right place goes a long way. If you have kids, selling lemonade and baked goods is a great way to bring in customers. You can even browse clever yard sale signs on Pinterest that are sure to grab attention!
Price Your Items Right. In order to have a successful garage sale, customers need to know the prices of each item. Price each item with a sticker before your sale. Make sure that the price is always right by not overcharging. Realize that people come to garage sales to find great things for cheap prices. Don't cheat yourself though! If you feel that something is worth a certain amount, mark it that price. Some customers will try to negotiate you down and you can choose whether or not you will take them up on their offer.
Discount it. In order to get more stuff off of your hands, offer some sort of promotion. Bundle deals or a free gift with a purchase is always a great option. For example, if someone buys 2 things from you they can get a third free or if they purchase 3 or more items they can have 20% off of the ticketed price. Many retail and grocery stores offer promotions like these because they get customers' attention and entices them to buy more items.
Join Forces. Try having a multifamily garage sale! More families mean a wider variety of items to sell. This especially helps alleviate the stress of doing all of the work by yourself. All you have to do is make an inventory and price list and initial what items belong to what family. When something gets sold, check it off. After the sale review the list and distribute the appropriate amount of money to each family.
Left Over Merchandise? If you don't want to donate leftover items or you happen to live in a neighborhood where garage sales aren't popular, consider setting up a table at a flea market. If there's a farmers market nearby contact them and ask if they would permit you to sell your items and under what regulations. As an alternative, sell your items on eBay, Craigslist, Offer Up, Let Go, Facebook's Marketplace or to consignment shops. Or, you always can save leftover items for your next garage sale!
If you follow these tips you'll rock your garage sale!
Looking for a place to store your garage sale inventory? Stop by and check out our storage facilities! We have a storage unit that will accommodate any storage needs, big or small! For more information visit www.storexpress.com or call 412-449-0123!