Ahhh spring. The time for blossoming flowers, warm weather, and a fresh start. Take full advantage of this season by opening windows, bringing plants into the home, and donating excess clutter. Tackle your spring cleaning with our comprehensive cleaning list to ensure all aspects of your home are ready for the season ahead. So, grab your phone and hit "play" on your favorite playlist because you are in for a full house cleaning spree!
Windows
Start by dusting blinds and wiping down any dirt or mildew around the outside edges of windows. We recommend using a microfiber cloth and some soapy water. Purchase glass cleaner, or fill a spray bottle with a half part white vinegar and half part water. Use a clean cloth and wipe down the glass in a circular motion to avoid streaks.
Patio Furniture
With the weather warming up, it's time to pull out the patio furniture and clean it for the upcoming summer BBQs. If your furniture has been outside all winter, its best to first hose off any excess mildew. Next, fill a bucket with hot water and a few squirts of dish detergent. With an old rag, wipe down any dirt on all surfaces of the furniture.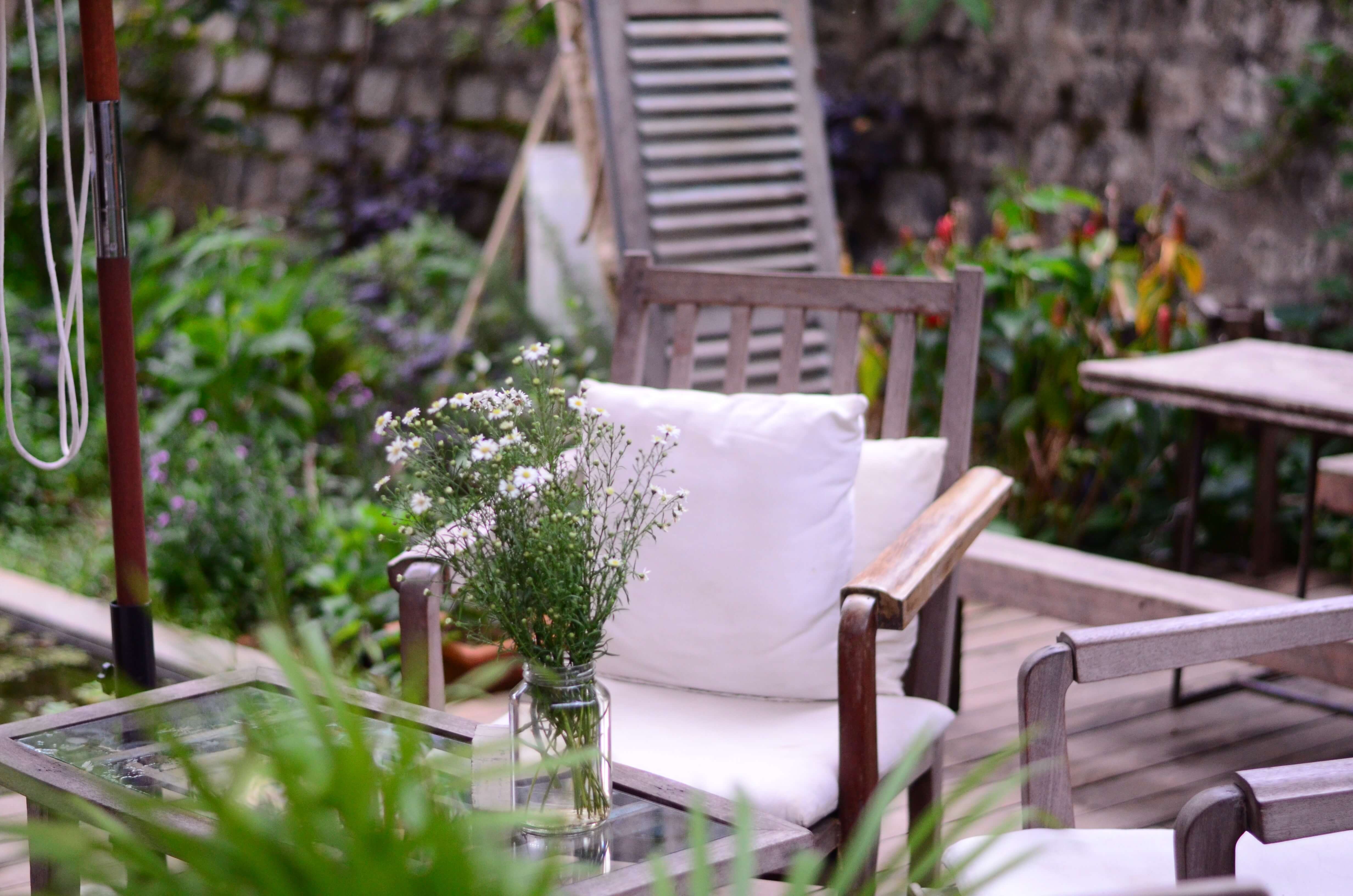 Closets
Time to put away all those bulky sweaters! Give your closet a spring refresh by pulling out all winter clothing such as sweaters, hats, scarves, etc. Fold the clothing neatly and put them in clear plastic storage containers. Take the containers to your storage unit, or place them in a cool, dry place in your home.
Find space-saving hangers and purchase multiple boxes to ensure you have enough for your entire closet. Throw out or donate any mismatched hangers from your closet that can cause inconsistency.
Ceiling Fans, Baseboards, and Crown Molding
During the winter, dust accumulates in every space of our home. This is why paying attention to all the minor details such as baseboards and ceiling fans can truly make a difference. Use a microfiber cloth and a bucket of soapy water to pull out dust from the crevices. We recommend using a gentle cleanser such as Murphy's oil soap that is designed to clean wood surfaces. Work your way from room to room, starting from the crown molding and ceiling fans, then moving down to the baseboards.
Bedding and Mattresses
Spring is the perfect season to clean and refresh all bedding. Start by opening the window to let in the fresh air. Next, strip down each bed down to the mattress. Take all bedding and place in the washer. Add in a half cup of white vinegar and a few tablespoons of baking soda to sheets to whiten and pull out any oils. Next, take a box of baking soda and sprinkle it onto the mattress. Let the baking soda sit on the mattress while the sheets are being washed. Once the sheets are almost dry, use a lightweight vacuum to sweep up baking soda from the mattress.
Garage: In the winter, your cars go through a lot. All of the leftover dirt and debris then park themselves on the floor of your garage for months. On a warm day, open all garage doors and pack up anything in your garage and move it outside. Grab a large broom and sweep dust and dirt in the outward direction so that it does not float into your home. Next, use a hose and hose off any stains and hard to reach corners. For really dirty floors, consider purchasing or renting a power washer to completely refresh your garage.
Rugs and Carpeting
Start by emptying your vacuum and making sure the filter is clean. This will keep it working properly and ensure it has proper suction. Next, vacuum all rooms from wall to wall including under furniture. To keep stains at bay, we recommend purchasing or renting a carpet cleaning vacuum to shampoo each fiber and lift stains. These will even come with an attachment that can be utilized on carpeted staircases.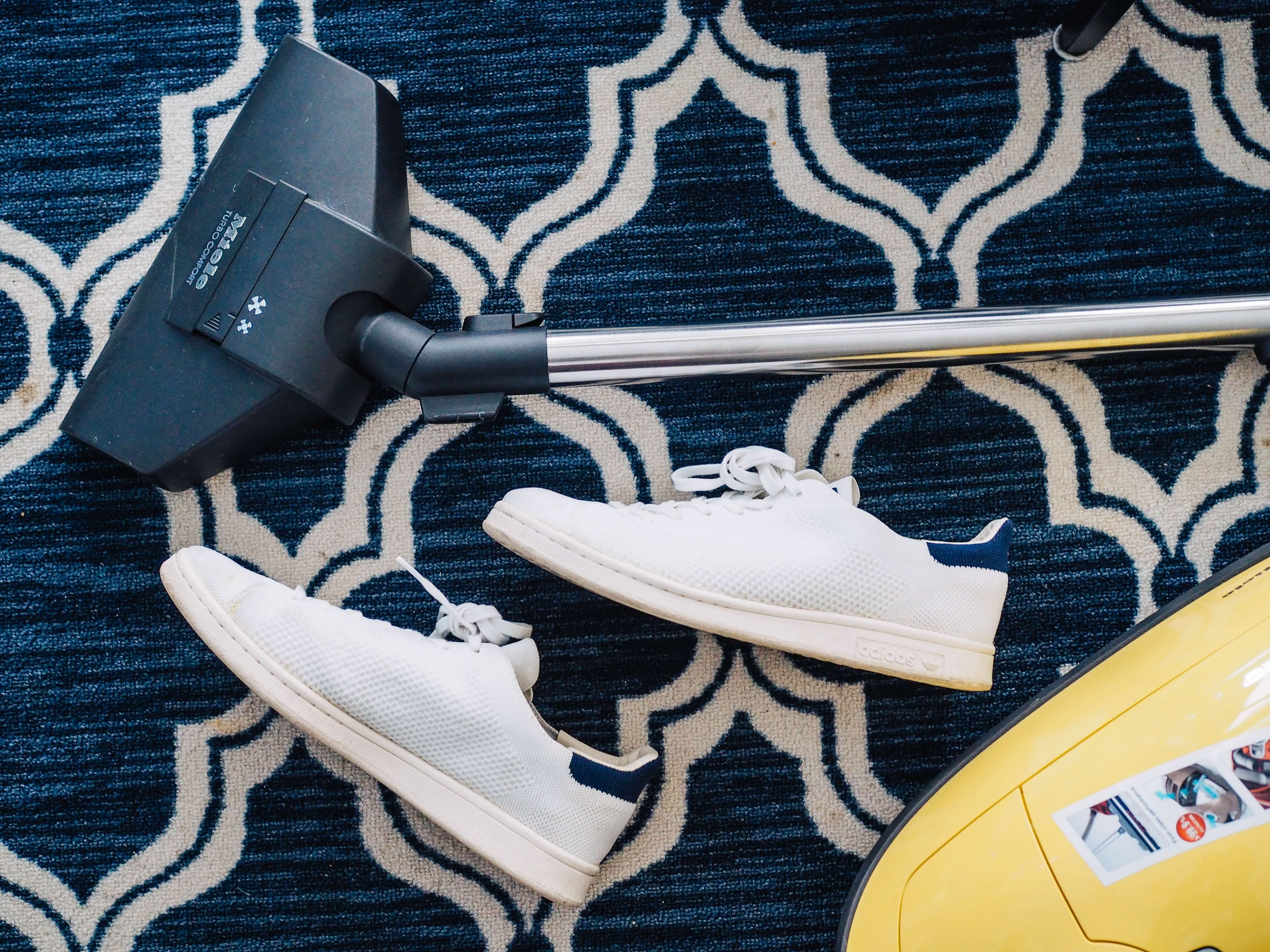 Appliances
Appliances come with their own set of challenges. You must clean each with the correct cleaners as the wrong cleaner can scratch or wear down the material on the appliance.
Oven: Start by mixing white vinegar and baking soda into a paste. Next, smooth the paste over the bottom surface and oven door. Let it sit for 2-3 hours to adsorb grease and stains. Once you are ready to clean it off, use a dish scrubbing brush to scrub the paste mixture in circular motions. After all surfaces have been scrubbed, wipe clean with a damp cloth.
Microwave: Save time and energy by pouring a cup of white vinegar into a glass cup and placing it in the microwave for 30 seconds to a minute. The steam from the vinegar will lift and soften stained food. Use a microfiber cloth to wipe clean.
Dishwasher: Use a bristle brush to scrub out the bottom of the dishwasher. Be sure to scrub into the grates in the back. They may have food particles clogging the drainage. Do not use dish soap to clean inside of the dishwasher.
Stove: Depending on if you have a gas or electric stove, and what type of burners you have, you may need to use specific products to clean. If you have an electric, glass stovetop, we recommend purchasing Weiman Glass Cook top cleanser.
Refrigerator: Starting from the top shelf and working your way down, go through each item and check the expiration date. Old, expired food can be removed and thrown out. For food that is still good but you no longer need, consider reaching out to a local food shelter and asking if they would need it. Wipe down all shelving and drawers with disinfectant spray.
Now that your home is in top shape for spring, it's time to grab your favorite snack and binge on your favorite Netflix show. If you find yourself still being overwhelmed with clutter in your home, consider reaching out to a local self storage company for more information on affordable storage options.