Selling your home can be stressful. It's frustrating if nobody else sees the appeal in the house you've lived in for so long. If you want to sell your home fast, you need to stage it! Many people hire professional stagers, but if you follow these simple steps, you can save money by doing it all on your own. If you don't want to drag out the selling process and be on the market for too long, make sure to stage it right the first time around.
Do your own walk-through. Walk through your home as if you were the buyer. Take a pencil and paper to write down all of your objective opinions regarding the things that need to be done. If you plan ahead and do this in the beginning, it will make the rest of the staging process easier. Prioritize these things on your list based on what will take the longest and do those first.
Double-check with a friend: Invite a friend or family member that doesn't live in your home to get a more unbiased opinion. Go through every room with them pretending they're the buyer and have them tell you what they'd change. Show them the list that you made during your own walk-through and see if they agree with your changes. Comparing multiple opinions and perspectives will help you decide on the best things to do to sell your home.
Visit other homes. Go to other open houses of homes that have recently been released onto the market. See how they've staged their home and compare it to yours. Listen and talk to the other potential buyers to see what their opinions are. This will show you what they like and don't like and help you decide what to do with your own home.
Set a reasonable listing price. Some people will set a price based on what they believe their house is worth or the amount of money they want to help pay for the next one. You need to compare prices of other homes around your area and base it off of that. Don't start your price off too high thinking that it will give you more room for people to negotiate. It might backfire and scare people away from evening touring your home or making an offer.
Cut all emotional ties. In order to make your home appealing to potential homebuyers, you need to look at your house objectively. During this process, try to accept the fact that you will likely need to make changes to your house that may not necessarily appeal to you. Your personal style isn't going to be the same as everyone else's style. Use soft, neutral colors that are easy on the eyes. You don't want colors that are too eye-catching and distracting. Replace your grandpa's recliner with a newer loveseat. Store any furniture into a storage unit that won't be appealing to others and rent newer furniture that can be returned later. Don't take it personally! Remember that these changes will sell your home fast and you can decorate your new home however you'd like.
Update your home. Tackle those weekend projects. Improvements such as painting, retiling, replacing fixtures and knobs, as well as cleaning or replacing floors will make buyers much more interested in buying your home. These simple fixes will make a huge difference on your house's appearance.
Improve curb-appeal.
Even though you're not supposed to judge a book buy its cover, people still do. If a house is not appealing on the outside, then buyers assume that it is not going to be appealing on the inside. So, make your home more inviting. Trim your lawn, plant fresh flowers, and paint an old fence. Power-wash your porch and walkways. Put a nice welcome mat in front of your door (they can also wipe their shoes on this so your home stays clean for the next visitors). Hang a pretty wreath on the door based on the season. Buyers will be much more interested in touring your home if the outside of it looks nice. Put up big numbers that are clear to read on the mailbox and a "For Sale" sign on the lawn so that they can spot your home more easily too. If they have to circle the block a few times before they find the house, they're going to walk in frustrated and be harder to make a sale to.
Don't forget about the backyard. Your buyer will take your yard space into account when considering purchasing your home. Whether your yard is large or small, decorate it and clean it up before your open house. Mow your lawn and get rid of all the toys and equipment you may have lying around. Clean or paint your patio furniture to make it look newer. Make sure it's not too cluttered, but still shows the functionality of the space.
De-clutter. Make your home seem more spacious for homebuyers. De-clutter your rooms, closets, drawers, and countertops. Remove extra trinkets and decorations that are taking up too much space. Consider storing your extra belongings in a storage unit until you are ready to move into your next house.
Use every room: If you have a spare room that you don't use, make it look as functional as possible. You might use it as a storage room where you put all of your excess stuff, but think about what the buyer could possibly use it for. It could be another bedroom, a nursery or an office.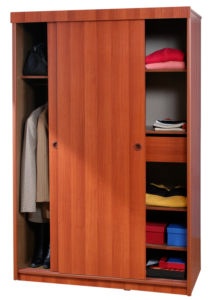 Open doors and closets: Leaving bedroom doors and closets open will make your open-house guests feel more welcomed. They won't be hesitant to walk anywhere or open anything because you have already done it for them. You don't want it to look like you have anything to hide. Hang up a few pieces of clothing in the closets and use organizers to show how they could maximize the space.
Take down wallpaper. Wallpaper has become a thing of the past. Not only does wallpaper give your home an outdated look, but it is often very personalized and can turn buyers away immediately. Remove any existing wallpaper and put some fresh paint over it.
Let there be light. Light gives homes a very spacious and open feel, so brighten it up. Increase the bulb wattage in your lamps, clean your windows, and trim any outside brush that may be blocking light from entering your home. A dark and dreary home will negatively affect the potential buyer's mood and, therefore, your sale.
De-personalize. Remove family photos, awards, certificates, refrigerator magnets and any other memorabilia throughout your house. These things are a sure indication that this is your home, and homebuyers need to feel like it's theirs. They want to be able to pictures themselves in this home and seeing pictures of you and your family will discourage that. However, you want to find a balance between having a bland home and a lived-in one. You still want your house to have some character and show its full potential. If it's too empty, it'll be hard for them to imagine what it'd look when lived in.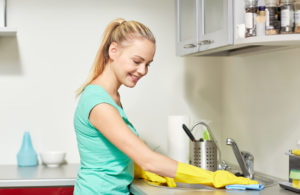 Make it sparkly clean. This step is extremely important. Nobody wants to live in a dirty home. Don't scare potential buyers away because of something so simple and easy to fix yourself. Wipe down all tables and countertops, get rid of any dust or cobwebs, mop and vacuum. Take out your trash and leave all garbage cans empty.
Add a fresh scent. Even if your house is spotless, it can still smell the opposite (especially if you have pets). Sometimes a deep cleaning of the carpets isn't enough. Buy some air freshener plug-ins to spread out throughout your house. You don't want them to smell too strong, so get a lighter scent such as lemon, flowers, ocean breeze or clean linens. It should be consistent so buy the same kind for each area. These won't be overpowering and will seem as if it's a natural scent.
With these simple steps, your house will be sold in no time. Not only will your house be taken off the market faster, but you may be able to increase your resale value as well. And remember, when you are ready to stage your home and store your belongings, our staff and the services we offer can help! STORExpress has plenty of storage unit sizes to fit your needs. Declutter your home and store with us while moving. We make moving easy with our free truck and gas along with carts, dollies and straps. Our month-to-month contracts allow for flexibility if you sell your home fast and need to move back into the next. Visit our website today to learn more!