No matter how you celebrate the holidays, one thing is for sure… it's hard to stay organized! So much is going on in a short amount of time that sometimes it can be overwhelming and all of the festivities can catch up to you! In order to combat the
holiday season stress, here are 10 tips to keep you organized through the holiday season.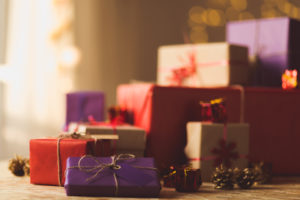 Create a To-Do List. Make a daily, weekly and monthly To-Do list. All 3 To-Do lists will help you to easily prioritize the most important tasks and get them done sooner. You can also visualize your long-term task and track progress by seeing smaller goals being completed. Like Van Gogh said, "great things are done by a series of small things brought together."
Make SMART Goals. When you set goals it's important to make them tangible by making them SMART. SMART is an acronym for specific, measurable, achievable, realistic, and time-based. Use the 5 different categories as a basis for all of your tasks during the holiday season. If you want to throw the most epic company holiday party and want to order a snowman shaped moon bounce, it's better to put the order in 2 months in advance rather than 2 weeks, when the company may not have it available for reservation. By making a SMART set of goals on your To-Do list you'll be sure to not only stay organized but complete your tasks in a timely fashion as well.
Keep Inventory. If you're starting your holiday shopping in June, it's easy to forget who you bought gifts for and you run the risk of buying two or three gifts for the same person. Make sure you keep track of the people you're giving presents to and what you buy. Create an Excel spreadsheet of who you'd like to buy gifts for and print it out. As you shop fill in what you bought. You can even update the information in Excel to stay even more updated and organized.
Store Your Gifts. Even Santa has been known to use STORExpress for all of the overflow toys from his factory. When you start your holiday shopping early, it's very easy to lose or misplace gifts. Use self-storage to keep track of the items you bought. It's also the perfect place to hide gifts. If you're looking to stay organized and have a great laugh, you can leave little "hints" like scrap wrapping paper laying around that will mislead your kids on the hunt to find their holiday gifts. You'll also be at ease because even if they are snooping around trying to find their gifts, they'll have no idea that they're in storage!
Toy Raid! The holidays are a great time to get rid of all of the toys that your kids no longer use, want, or broken. Make three different piles for the toys: keep, throw away and donate. Go through the toys with your child and sort the toys accordingly. Decluttering your child's toys together is a great way to bond with your child, teach them the significance of donation and the importance of being organized. Give the toys in the donation pile to a local toy drive, or visit http://www.moneycrashers.com/where-donate-used-toys/ for more information on where to donate.
Holiday Cleaning. While you're cleaning for the holiday season, look around the house and find items that you no longer use. Create three piles: donate, sell and throw away. Determine what items are appropriate for each category, watch your clutter disappear and maybe even make a few bucks in the meantime. Use your holiday cleaning as a time to go through your decorations and see what you want to use again for this season and what you want to throw away.
Set Aside Me Time. Through all of the holiday craziness, it's important to treat and take time for yourself. Set aside time to go get a facial, massage or even take a nap. You'll feel refreshed afterward and ready to finish your holiday tasks.
Get Help. It's easy to feel like you're all alone in the holiday madness. Don't be afraid to ask for help! Whether you need help cleaning your home and cooking for the holidays or gift shopping, there are plenty of services around the holidays to make your experience less stressful. If you don't want to pay for services, ask family members or friends. Completing tasks together is a great way to bond and stay on track for an organized and successful holiday season.
Take Pictures of Your Holiday Home! Not only is it a nice memento of all of your hard work over the holiday season, but it's also a resource for next year. Use the pictures as a guide to decorating faster next year. You can see what you liked and didn't like and can make the appropriate changes for the next holiday season.
Throw an Un-decorating Party! Invite friends and family over for a small un-decorating party. Have bins for each category of decorations: tree, kitchen, living room, dining room, etc. Turn on some music, pour some wine and have a great time with your family and friends. It also doesn't hurt that taking the decorations down will be so much faster!
If you follow these tips, you're sure to have a more organized holiday season! Looking for a place to store your holiday decorations and gifts? Check out our website or call us at 412-449-0123 to rent a storage unit near you!