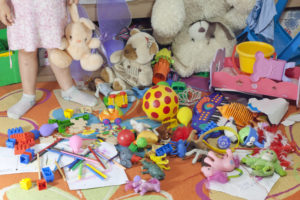 Have you ever gone down to get something to drink at night and been scared by what turned out to be your kids' toys? Maybe it's the looming shadow of a rocking horse. Maybe you step on a Lego block or a light up toy. Maybe you slip on a hoverboard at the base of the stairs. You can't live like this! And what if the kids turn out to be Hoarders!? Time to DECLUTTER! This simple process will get your house back from the TOY-NADO that swallows so many homes.
Ask yourself this; How many toys do your kids actually play with every day? If you ask a kid what toy is their favorite, they'll probably say "All of them!" Rare is the case when a child will get rid of a toy. If you let them decide, your house will look like the Island of Lost Toys in no time.
However, if you watch them, most kids have a favorite toy they play daily. They may run around the house with them or just watch their favorite show with them.
Once you get an idea of their true favorites, you can declutter the rest. Then, you can rotate toys for them, making the old new, again!
At every step, it's smart to simply put the downgraded toys in an out of the way room, just in case you almost threw out a family heirloom or your child's version of the Velveteen Rabbit.
Timing is everything

. A good time to get rid of old toys is after a birthday or holiday because then you make room for all the new toys.
Get Prepared.

Find out which toys they use first and then start to eliminate the ones that just take up space. This step takes the longest because you have to look at the toys that are most important.
Do the Easy Stuff.

Throw out broken toys. You should also check for wear and tear that may cause a choking hazard.
Ask Questions!

Make sure to ask your kids if they play with a particular toy or if they prefer one toy over the other. This way they are a part of the process.
Respect their decisions.

If kids tell you they don't want something don't be the mom that gets caught up on the sentimentality of a toy from their 1st
While we all know the attachment a child can have with a toy, you have to meter emotional choices. Keep a toy sentimental toy from Grandparents of important friends, but keep these safe. If there is a genuine emotion; it shouldn't be left out in the yard or covered in chocolate pudding. Keep these safe for when your children are older.
Put some toys to the side. You could put some toys to the side for 6 months and then bring them out again. To the kid, it will be like a new toy and Self- storage is a great way to store these toys.
Store things Smart. After deciding which toys to keep now is the time to organize which toys go where. By doing this you are having everything in a particular place which keeps the clutter under control.
Do what you have to do. At the end of the day don't feel guilty about decluttering. It makes room for new toys for your kids.
THE HAT-TRICK! When you're young, a piece of plastic can be your best friend. Keep this in mind with children; the world is magical. So, after you have your toys divided, take the ones to KEEP & CONSIDER and any that may be heirlooms to a storage unit. You can use a small 5×5 year round for sports equipment, older toys, and clothes, and even hide new presents You can also rotate toys from the unit to give your child a sense of wonder that their toys come and go on their own.
So, with a small 5 x 5, you could declutter your house, keep things safe for the future, & put a smile on your child's face.