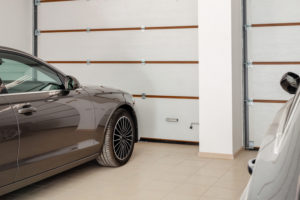 If you can't park your car in your garage because it is stuffed with tools, boxes, sports equipment and old toys, you have a serious problem!
Use these steps to declutter and make more space for your car!
Avoid Hurt feelings. Make it a family affair. Don't get rid of something that's not yours. It's best to have everyone on board with decluttering the garage. Plus, extra sets of hands will make the process go by faster.
Face the Challenge Head on. Start the process by completely removing all of the items in your garage. This allows you to see how much space you have.
Make Piles. After you emptied out your garage, go through each item and see if you want to keep it, donate it, sell it or toss it. Place each item in one of the four piles.
Contain Your Nostalgia. If you tend to use your garage as a storage unit, sort the items and see what you need for your everyday life and what you don't. If you're trying to make your garage look like a garage again, the best thing to do is part ways with what you can. If you're not thrilled about getting rid of something like photo albums, put them into storage. Using a storage unit will remove those items from your home but you'll still have access to them whenever you want.
Create Your Zones. After you figured out what you want to save, sort through those items and create piles. Categories can include tools, seasonal items, crafts, garbage cans, sports equipment, etc. From here, you can begin to organize the items in your garage.
Quiet the Visual Noise. This is just a fancy way of saying organize, organize, organize! Once your belongings are in categories, you can figure out how you'll store them. Add in shelving, cabinets, racks, hooks, totes and other organization tools to help optimize all of the space you have. The kind of totes that you want to use for your garage is solely based on your personal preference. Just be sure that you label them appropriately. Make sure that every object in your garage has a specific place and keep it in that place from now on.
Always Go Vertical. Items that you need to just grab and go should not be on the floor. You can hang most of the items that are sitting in your garage to save space and make them more accessible. If you're looking to be a space-saving pro, Pinterest is a great place to start. You can hang gardening and landscaping equipment like shovels, brooms, and rakes on the wall. You can hang sports equipment and toys as well.
Keep it Organized. When you bring something new into your garage you should always take something out. If it's a staple garage item, make sure that you know exactly where it can be stored before you buy it. This will help keep your garage clutter-free. No one likes to buy something and not have the space to keep it!
Park your car with Pride! Right next to the first warm day of the season or sleeping in a freshly made bed, is the feeling of being able to park your car in your garage again! You instantly feel great when you can park your car in the garage again.
Don't let your clutter cast out your car! It's an awesome thing when you can park your car in a clutter-free garage! Don't miss out and follow these 10 easy steps to taking back your garage!
If you find that you still have more car then garage, check out our indoor vehicle storage options. For more information, you can visit us at http://www.storexpress.com/ or call us at 412-449-0123!
Visit our Youtube Channel to learn more about our vehicle storage!