You planned for months, made all the arrangements, and celebrated the moment when two became one. It was magic the moment you said "I Do". Now that wonderful day will live in your memories forever, but where will your dress live? The average cost of a wedding dress in Pennsylvania for 2019 was $1,781 according to Insider.com, which likely makes that the most expensive dress you ever wear just one time. So it only makes logical sense to think about what you would do with the dress after your wedding day. While there are 886,000,000 search results on google stemming from the search "What do you do with a wedding dress after the wedding", it would remain logical to think that you will be emotionally attached to your dress for some time after your wedding, not wanting to do anything to tarnish the memory of your beautiful wedding day. Reality though is that something has to be done with the dress. So, taking the proper steps to ensure your wedding dresses longevity is something you should be thinking about before ever saying "I do".
How to Store A Wedding Dress Before the Wedding
The wedding dress of your dreams has been purchased, and now really is the time to start thinking about how the dress is being stored. Begin with having a conversation with the bridal store the moment you purchase your dress. Ask the boutique what their policy is for keeping the dress in the store. Most boutiques will keep the dress until closer to the wedding day, you should consider this as a gospel way to ensure that nothing happens to your dress. If choosing to take the dress home there's the possibility that you will be tempted to try on the dress for closest friends and family because of excitement. However, avoiding unnecessary try-on's is vital to the life of your dress. Every time the dress is slipped on and off oil is transferred to the dress from skin contact and will fade, yellow, or cause possible unrepairable damage. However, if the wedding dress store is unable to store the dress there are steps you can take at home to ensure the safety of your dress.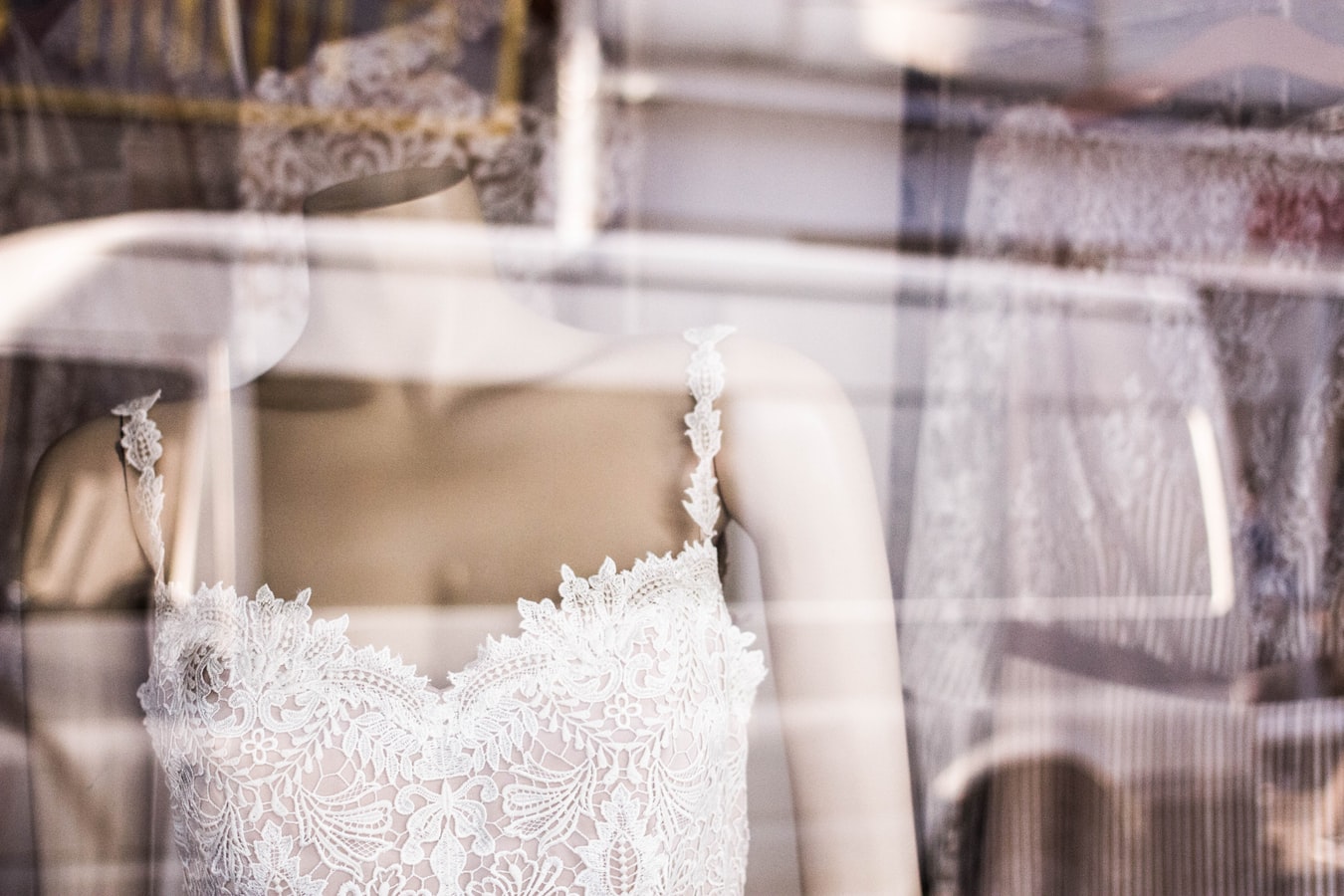 Storing at home:
If the conversation has been had with your wedding dress boutique and they just do not have the room to store your dress, your main priority is to keep your dress clean from any stains, wrinkles, stretch, or direct sunlight to avoid discoloration. DO NOT remove the dress from the bag or replace the bag with any different storing boxes. Wrapping or placing it in plastic could allow moisture to get in, which is the perfect environment for mold and mildew to breed. To avoid exposure to these things, keep your dress in its high-quality garment bag, away from direct sunlight.
It is imperative that the dress is stored laying completely flat (still in the bag). This will prevent the dress from "running" or stretching on the hanger. It will also help to minimize creasing and wrinkles. However, if you just do not have the space to lay the dress flat, then you should consider only hanging the dress by the garment loops inside the dress, and never by its sleeves or straps.
It should go without saying but you should never store your dress in a garage or attic. The temperature is constantly changing in these spaces and that can lead to humidity concerns, running the rest of fabric discoloration. The most ideal spot is in a cool, dry, dark spot, like an air-conditioned or heated guest bedroom.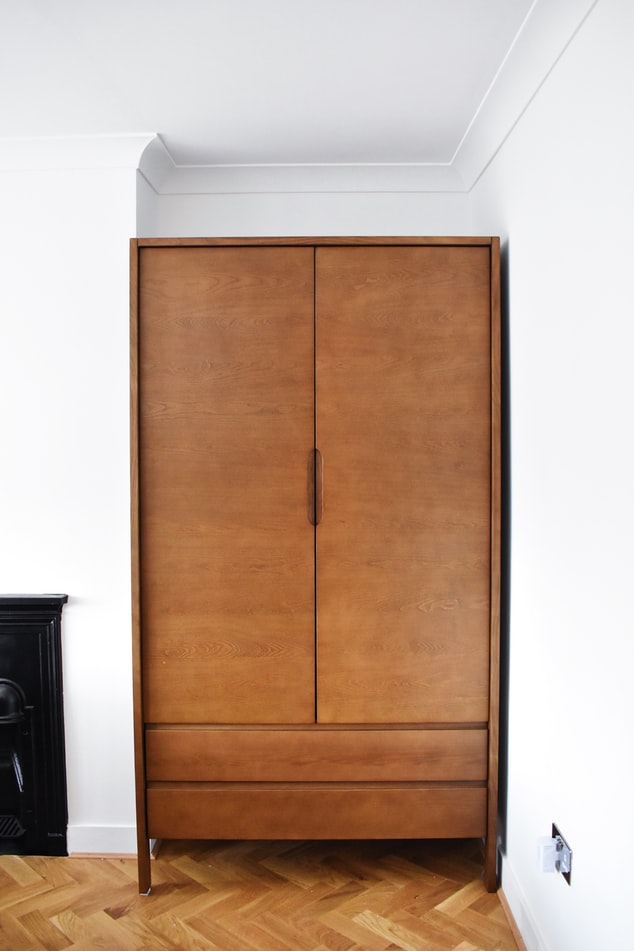 Wait until your wedding day!
As mentioned previously, it is vital that you avoid trying on your dress multiple times while storing it. Putting the dress on and taking it off, again and again, can transfer the oils from your skin, or bacteria from your hands. There is always a risk of getting water, makeup, or perfume on the dress. All of these things can lead to discoloration and a disappointing dress on your wedding day. The temptation is great but it's favorable to keep it in the garment bag away from any dangers.
Storing your Wedding Dress after the Wedding
The wedding was a beautiful day full of friends, family, laughter, and love. However, the clock is ticking on the very short window of time before any stains set in and become permanent. "Clear" stains, like white wine, will begin to tarnish to a brown color, perfume and perspiration can also be classified as a clear stain and if there is anything with sugar that was spilled on the dress it can begin to caramelize in the heat and yellow too, in just as little as just 6 months! Once these sorts of stains set in not even dry cleaning can help to remove them!
The last thing a bride is thinking about on her wedding is making sure that a family member is tasked with having the dressed cleaned immediately after the wedding. Usually, the happy couple is jetting off to their honeymoon and the dress is placed back in the garment bag for safekeeping, but even just that short few weeks before taking the dress in to be preserved can leave the dress vulnerable to all the "clear" stains previously noted. The best thing you can do for your dress is to arrange in the months leading up to the wedding for your maid of honor, sister or mother to take it with them directly after the wedding. This way you can leave for your honeymoon and enjoy your newlywed bliss without any final tasks needing to be completed before you can jet off.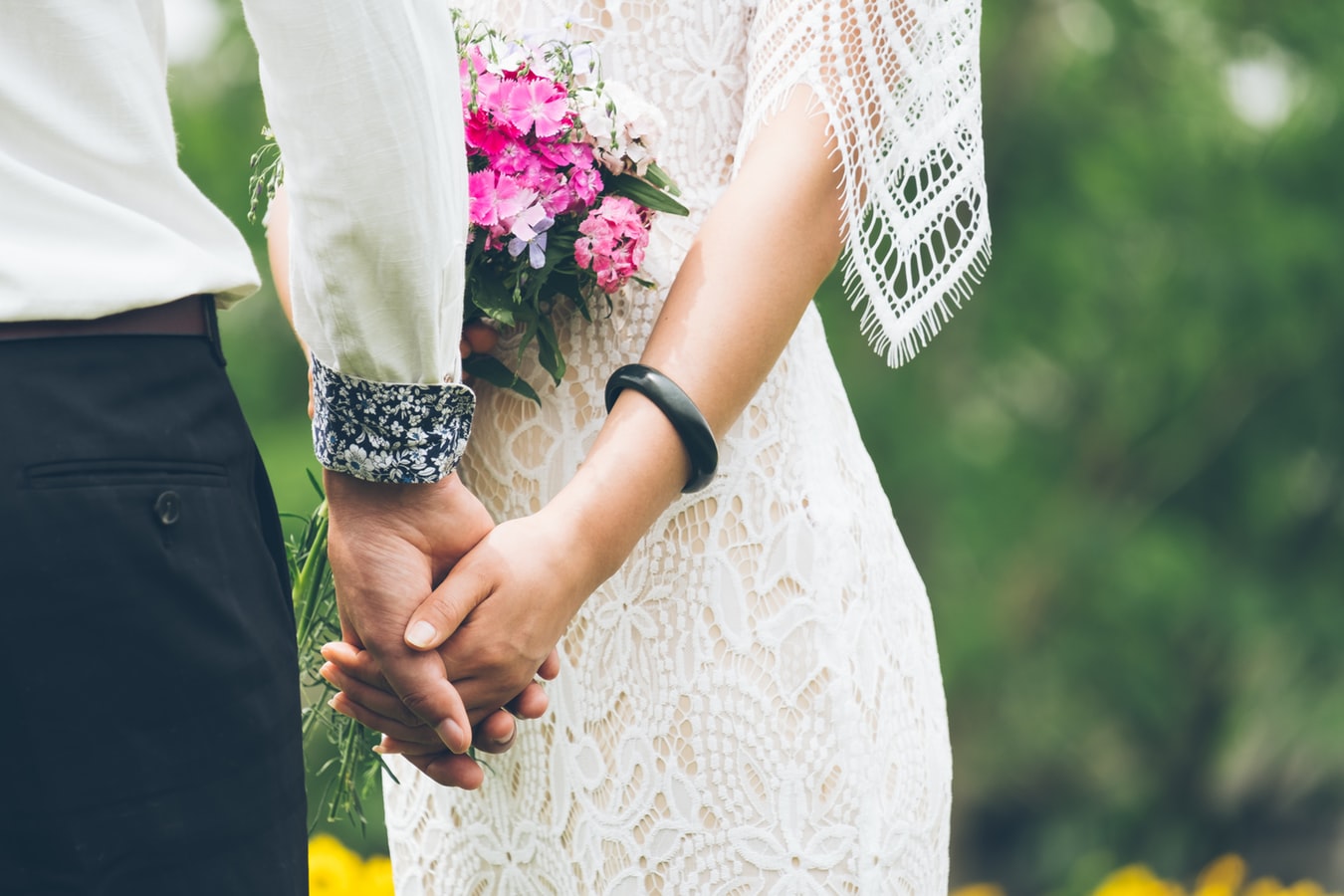 Wedding Dress Cleaning and Preservation
While you might not know it, there are two things you can do with the dress, clean it or clean and preserve it. If you want it to be in perfect condition for a future daughter or granddaughter then you will need to opt for preservation, however, if you think you might want to reminisce over the years, then only cleaning it is the right choice. Price might be the largest barrier in choice with dry cleaning usually ranging from $100 - $200, and preservation costing upwards of $400 which includes the cost of a preservation box.
Dry Cleaning
Before selecting the dry cleaner that you want cleaning your wedding dress, make sure you ask a lot of questions.
Is the cleaning performed on-site?

Not all local companies have the equipment to work with such delicate materials.

Do they offer a warranty?

Check their referrals. You wouldn't hire a band without first hearing them play, so don't be afraid to ask for references to make sure that the quality of work they promise is something that they deliver.

How is the dress packaged after cleaning?

Some companies will place the dress in a standard dry cleaning bag and as we discussed earlier that can lead to mildew and mold!

Will the down be placed on a bust?

This helps to hold the integrity of the dress boning.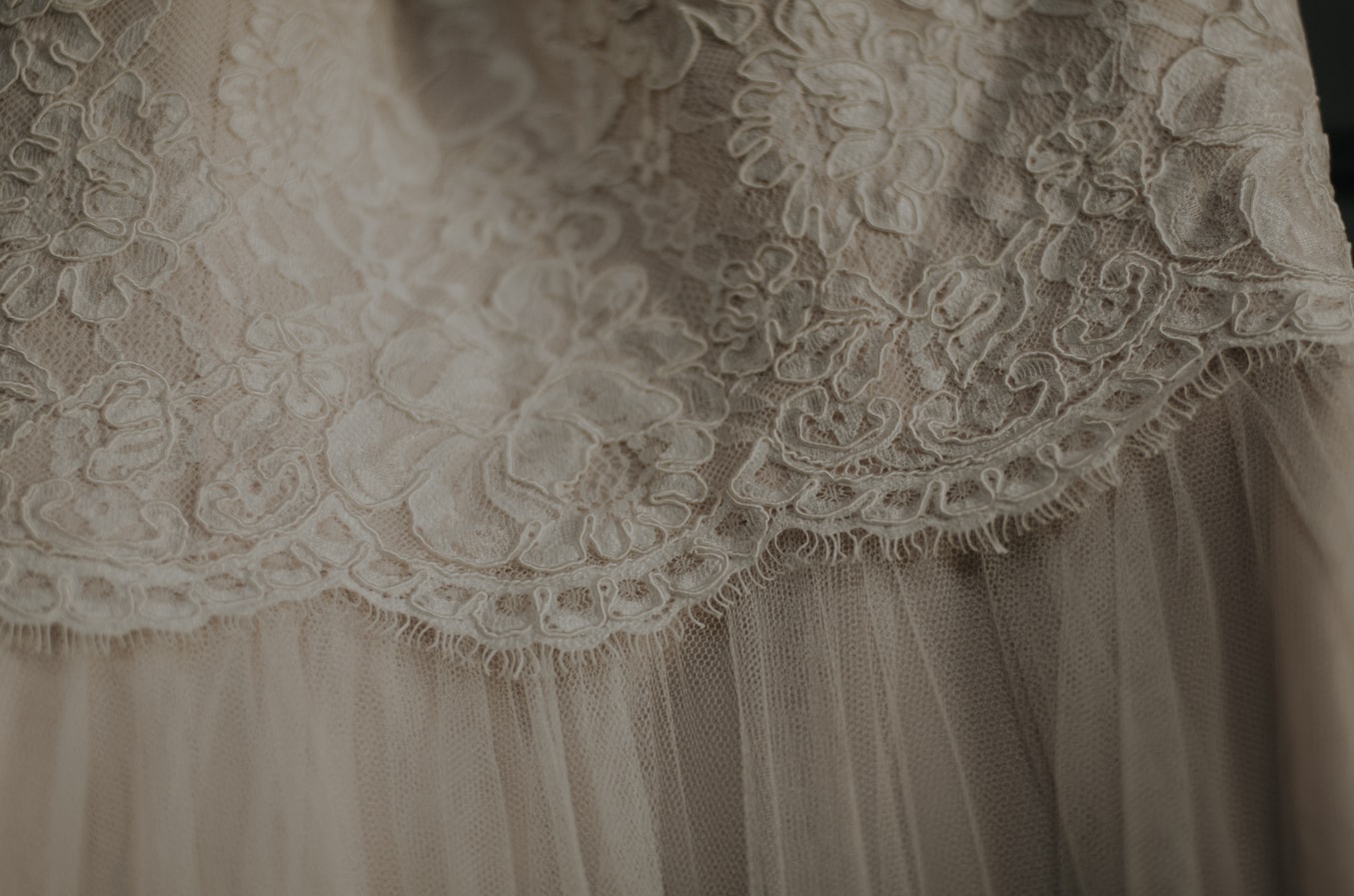 Cleaning and Preservation
When opting for your wedding dress to be cleaned and preserved looking for the right company is important. As with many things over the last decade a growing online tread has created a niche market of cleaners that will only have the proper equipment for cleaning the diligent fabric but understands the industry standards for wedding dress preservation, including placing the gown on a bust form with the remaining dress wrapped in acid-free tissue paper, in a preservation box that has a window. The Knot recommends Affordable Preservation Company as a hall of fame top rated company.
At Home Care
Now that all the necessary steps in cleaning and or preservation of your wedding dress have been taken, the remainder thing you must think about is where this dress lives out the rest of its life, waiting to be passed on as a family heirloom. Storing the dress in a cool, dark, and dry space is very important. You will want to avoid any areas that could have fluctuating humidity, such as a garage, attic, or basement. Many people consider storing their wedding dresses in a climate-controlled storage unit. These units provide a consistent humidity and temperature and are protected from pests and dust.
Revisit your dress every couple of years to inspect and refold it. This will help to prevent permanent creasing, wrinkles, and allow you to catch any stains or damage that might develop. Take care to wash or sanitize your hands prior to handling it so that all oils or bacteria have been sanitized from your hands. Do not wear lotions, perfumes, or any jewelry when handling your stored wedding dress. If you are still not confident that cleaning your hands prior to use will be safe, you could invest in a pair of white cotton gloves to use while handling the dress.
For more self-storage articles, take a look at:
STORExpress is "The Neighborly Place for Life's Needed Space!" With 12 convenient locations throughout Pittsburgh and Warren OH, you are never far from a facility. We believe in supporting all the needs of our community, from local community projects to creative artists, bands, and first-time business owners.
Learn more about how STORExpress can support you!
For questions or additional information can you contact us!