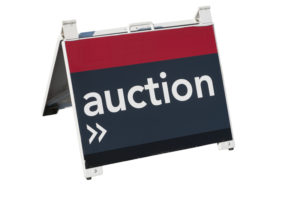 Due to the popularity of shows such as Storage Wars and Auction Hunters, people all over the country clamor to self-storage auctions with hopes of finding treasure in abandoned units.
While most units contain typical items that the average person would store, sometimes high-value items are found:
James Bond Car
In 1989, a man in Long Island purchased an abandoned unit -sight unseen – for $100. The next day, when he and his brother cut the lock off, they found a white car with no wheels and a dented roof.
At first, they thought the car was junk, but when as they loaded the car onto a flatbed truck for transport, onlookers informed the brothers what it was: one of the submarine cars from the James Bond movie The Spy Who Loved Me.
The man put the car up for auction and it was purchased for $1 million by Tesla founder Elon Musk.
Action Comics No. 1
In 2011, a man bought the contents of a San Fernando Valley storage unit and found a near-mint copy of Action Comics No.1 aka the first Superman comic book.
The comic book was worth $1 million, however when the buyer of the unit tried to sell it to a dealer, he discovered that the comic had been stolen from actor Nicolas Cage's home 11 years earlier.
The comic was seized by authorities and given to Cage's insurance company. It was later sold for $2.1 million.

Jackson Pollock Art Collection
A trove of 32 paintings by abstract artist Jackson Pollock was uncovered in a Long Island storage unit by a man cleaning out his mother's storage unit after her death.
The paintings were created between 1946 and 1949 before Pollock was well known. The collection was valued to be worth $10 million.
Beach Boys "Lost Archive"
An abandoned Florida storage unit purchased at auction yielded a collection of thousands of Beach Boys documents, including handwritten scores for 150 songs, their first royalty check, and dozens of signed contracts and photographs.
The items had been placed in a storage unit for safe-keeping by a relative of one of the band members who decades later, fell behind on the storage payments.
The buyer of the unit, once realizing what he had, turned the collection over to The Fame Bureau, a London-based firm who put the collection up for sale at $7 million.
To all you auction-goer's who will be attending our March 25th auction, good luck and may you find lots of treasure!