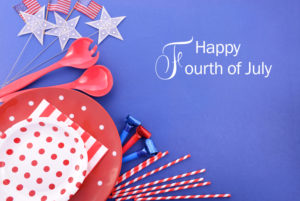 Holidays are stressful if you're hosting friends and family in your home. You want to make sure the food is just right, your home looks like something out of a magazine and your overnight guests are feeling welcome and comfortable. Now throw in sparklers, fireworks, grilling on the barbecue, children running around, and playing games in and outside of the house, broken decor and spills and you get the Fourth of July barbecue.
It's always awesome to see your family and friends together in your home but accidents do happen with a lot of people under one roof. Here's some advice to keep your home in tip-top shape this Fourth of July even with a full house.
Clean up any clutter. Clean up your home as you would for any other holiday. Make sure you have all of the rooms in your home clean, top to bottom. This also helps to reveal any clutter or junk that you may have in your home that you can either throw away or put in storage until the next fall and winter seasons.
Plan it out. If you have family coming over, where are they sleeping? Figure out where guests can utilize air mattresses, pull out beds or futons. You can easily make room for more out of town relatives and friends by clearing fragile and expensive tables and furniture. By putting these items in storage you can stop the possibility of it being stained or damaged during the Fourth of July fun.
Get ahead of the game. Decorating in advance takes the burden off of you on the big day. In order to save time and money each year, save and store your decorations in a marked container. If you want to change it up every year use the stored decorations and add a festive statement piece to your home every year.
Give a tour. It doesn't matter how many times someone has been to your home. Give them a mini-tour. They need to know where they can find the glasses, silverware, extra towels, restroom, blankets, etc.
Get creative. If you have children staying with you and you're looking to free up space while keeping them busy and entertained, let them "go camping." Clear out a space in the house and they can "camp" indoors. If you don't feel comfortable with that, after everything is cleaned up in the yard and they're finished watching the fireworks, pitch tents in the backyard. Throw in some s'mores and a bonfire; they'll love it!
Be sure to use self-storage to your advantage this Fourth of July. Create more space in your home and protect your valuable and fragile home decor by renting out a storage unit from STORExpress! You can also take one more stress away from your holiday by reserving our FREE truck for move-in!