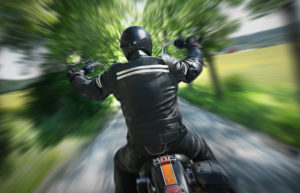 Motorcycles are a fun and fuel-efficient way to get around. They are also much more dangerous than a car. According to the National Highway Traffic Safety Administration (NHTSA), motorcycle fatalities are up over 8% from 2014 and motorcyclists are 29 times more likely than passenger car occupants to die in an accident.
As a new motorcyclist, you can minimize the chance of an accident by following these steps:
Buy a bike that fits you. When bike shopping, don't buy more bike then you can handle. Choose a model that you can easily reach the controls and handlebars. Your feet should be able to rest on the ground flat and you should be able to get on and off of the bike with ease.
Take a Motorcycle Safety Foundation (MSF) riding course. An MSF course will teach you basic riding skills, advanced techniques and how to perform emergency maneuvers.
Wear proper gear. Tee shirts and shorts will not protect you from bugs, debris, road rash, and wind. For the best protection, opt for a padded leather jacket, gloves, boots and full pants. Also, don't forget to protect your eyes with either a helmet or goggles.
Don't drive in bad weather. Motorcycles can easily slide when they come in contact with the wet pavement. If you do need to ride in inclement weather, remember that the road is most slippery right after the rain begins. Try to avoid braking suddenly or making abrupt turns.
Make sure your bike is in good condition before each ride. Before hitting the road, do a walk-around to make sure everything works and inspect the tires for wear and that they are inflated properly. To help protect your motorcycle from the elements, consider storing it in a climate controlled facility.