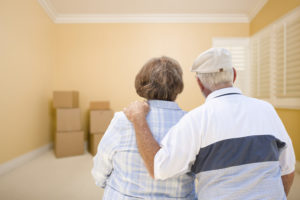 For convenience, security, and support, many seniors are choosing an assisted living facility for the next chapter of life. But this decision also requires seniors to downsize their current home and belongings to accommodate their new living space. Before moving into an assisted living facility, seniors must first decide what to do with household items they will no longer need or have space to store. This requires giving belongings away to friends and family, donating to charities, or storing items in a self-storage unit. This article offers tips for helping downsizing seniors move while saving time and money along the way.
Give Belongings Away
After determining which items will be moved into their new home, the next group of belongings for downsizing seniors are those that will be given away to friends, family, and neighbors. These household items typically include family heirlooms or those items with sentimental value. This could also include furniture that will no longer fit into the new living space. Large dressers, dining room tables, or couches could be given away to family members who have needs for them. Other items like yard equipment or decorations could be given away to neighbors while downsizing into an assisted living facility as well.
Donate Items to Charity
Donating household items to charities is an opportunity to help others while also helping to organize the new living space at the assisted living facility. By taking an inventory of closets, basements and attics, quality items could be found to donate to a charity. Clothing, hats or winter jackets that are no longer worn, for example, will be gladly accepted by a donation center. Toys that grandchildren used to play with that occupy space in the basement are another example of household items that could be donated while seniors are downsizing.
Storing Items in a Self-Storage Unit
Consider a self-storage unit for seasonal items, or belongings seniors would like to keep but do not fit into their new living space. Seasonal items could include clothes or decorations, for example. Items that you plan to give away in the future, like furniture or lawn equipment, could also be placed in a storage unit. Similarly, important documents like titles or deeds that are accessed infrequently could be stored in a self-storage unit as well, along with print photos or albums.
STORExpress offers the self-storage solution you need. Whether you're looking for household, contractor, business storage, or anything else, contact our customer service team today. We will help answer your questions and find the self-storage unit that works best for you and the stage of your life.