Looking for a quick weekend project? Take a short walk to the backyard and look inside your shed. If you're like most homeowners, your shed is full of items that are rarely used, along with gardening tools, lawn supplies, and leftover DIY projects. While some items may be sentimental, others can be given away to make room for a clean, open, and organized space. Here are some of our top tips on shed organization to leave you with the perfect backyard storage solution.


Toss, Donate, Keep
The first and sometimes the hardest step is to take everything out, lay it on the grass, and sort through each item. At first, this may seem simple, however, most sheds are a storage space for products such as paint, insect repellent, lawn care pesticides, and old electronics. If any of these items are no longer needed or have expired, you need to dispose of them in the correct method. Visit your local county website for instructions on how to discard these materials. If not done properly, it can spill and become hazardous to the environment.
Other items such as old furniture, toys, or clothing should be removed and placed in a climate-controlled storage unit to keep out excess moisture. While a shed may be a good place to store items temporarily, it is exposed to outdoor elements and will eventually cause mold and mildew to settle within items that are made out of fabric.



Organize From Top to Bottom
One of the many benefits of a shed is that it is built almost entirely out of wood. This makes building shelving units, adding hooks, or other storage options extremely easy. Starting with the door, add hooks on the backside of the door for shovels, rakes, and leaf blowers to hang neatly. On a large wall, hang storage shelves for smaller power tools, nails, and small accessories.
Need a workbench? Now that space is cleared, you may have enough space for either a store-bought work table or built one yourself out of reclaimed wood. Behind the work bend, consider adding either a pegboard or magnetic wall. This allows for added functionality for smaller tools such as screwdrivers and wrenches. If you are an avid gardener, this space is ideal for keeping extra pots, seeds, and allows you to pot plants while standing up.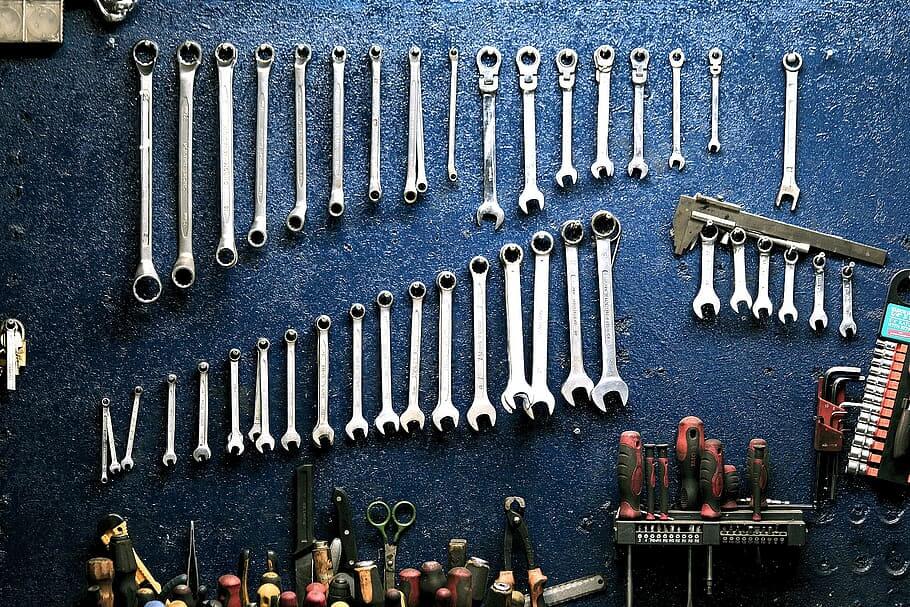 Find a Home for Large Items
From wheelbarrows to lawnmowers, large items can take up the majority of your much-needed space. A helpful tip is to find an ideal home for each item for easy access but also tucked away. For instance, find sturdy metal hooks for the wheelbarrow to hang it upright. If you have a push mower, you may be able to tuck it under a workbench, or between shelving.


Get Creative
Having trouble storing toy balls and bikes? A fun idea is to create a "ball jail" using two pieces of plywood and some bungee cords. Nail one piece of wood to the floor, and another piece the length of a bungee cord. Attach the hooks at each end using multiple cords to act as bars holding the balls in. If anyone needs a ball, they can easily remove one between the stretchable cords without the balls slipping away.
Another idea is to create a bike rack using old wooden pallets. Simply cut a pallet in half, then use extra pieces of wood to create a triangle. Bikes can be stored in an upright position, allowing for easy cleanup and storage. Paint the bike rack a fun color such as bright blue for an added flair.



Now that you have a well-organized shed for your storage needs, consider looking into a local climate controlled storage unit to keep the clutter at bay. Whether you continue to clean and organize the remainder of your storage at home, or you are downsizing, a store manager can assess your needs and give you the right-sized storage, without overpaying.