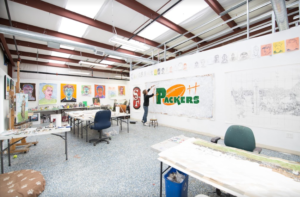 Welcome to our 448 artist studios! Here, our talented artists create beautiful works of art in the comfort of their own studio. In a time where art is less and less appreciated, these artists truly know how to stand out and showcase their talents. Of course, we at STORExpress work to cheer them on and accommodate any amenities our artists need.
Our 24/7 facilities allow our hardworking artists to access their studios whenever they want; we know inspiration comes at crazy times! Each entrance is also securely locked, and artists can only enter with their personal key.
Each floor of our 448 art studio buildings is equipped with numerous amenities: lounge couches, slop sinks, kitchenettes, and bathrooms. The common areas are the perfect places for artists to relax after long hours of work.
Meet Some of Our Artists!
Alyssa Sineni – writing and metal art
"I appreciate the unique ventilation system STORExpress especially installed for me. It makes my work a lot easier and cleaner."
Alyssa's office is just one of many unique art studios in our 448 building. Each studio is packed with unique utilities that may include extra outlets, windows, or higher ceilings. Potential renters are able to tour our facility and choose the perfect art studio for their projects.
Bernie Wilke – murals and studio gallery
"I like the community of artists and writers. Everyone always wants to help each other. The facilities are also very clean and well kept, which makes me feel right at home."
David Weinstein – mosaics and cinematography
"I appreciate the community in this building for support. I've made a lot of new friendships with the other artists. I also like that I can access my room at any time."
Due to the heavy demands for our art studios, we are opening brand new artist studios at our newest facility in Overbrook in the South Hills. The Overbrook facility will also have similar amenities: lounge couches, slop sinks, kitchenettes, and bathrooms. Please check back soon to see the grand opening at Overbrook!