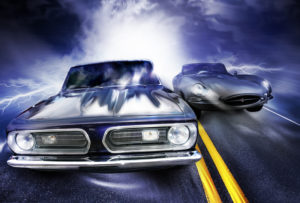 Love your family sedan but have the urge to drive something with a little more spice? The masses can drive thanks to the rise in popularity of video games, exotic and classic cars like never before with stunning realism.
For the uninitiated, the Forza Motorsport series of video games is a long-running franchise that is highly beloved by its devoted fan base for its realistic car physics, boundary-pushing graphics, and responsive gameplay. This is the closest you can get to actually getting behind the wheel of some of the most iconic cars throughout history on some of the most historic speedways in the world. Released in October, Forza 7 takes things to the next level with the most realistic driving simulation to date and a truly awe-inspiring 700 cars to choose from, which range from 1960's F1 machines to the newest and fastest models, like the brand new Porsche 911 GT2, all drivable on over 30 tracks.
In a similar vein, Sony is developing the latest in its line of games for car enthusiasts: Gran Turismo Sport. While not offering quite as large a library as Forza 7, Gran Turismo offers 177 cars and 19 racing locations. Releasing October 2017, Sport is the thirteenth game in the series but offers a good starting point for new players as it serves as a refresh for the series, while also building upon the games that came before. The game will also feature a competitive racing mode in affiliation with FIA so that you can test your prowess against the best around the world.
Do you already own your dream car? Whether it's the new Porsche 911 GT2, a 1965 Shelby GT 350, a family sedan or anything in-between, it's important to keep your investment protected. Why risk keeping it somewhere else when STORExpress offers 24-hour video surveillance, 24/7 electronic keypad entry, month-to-month contracts and more. Our climate-controlled vehicle storage will keep your hotrod in pristine condition through the long and brutal Pittsburgh winters. What are you waiting for? Reserve your space today at either our Turtle Creek or McKees Rocks Locations.