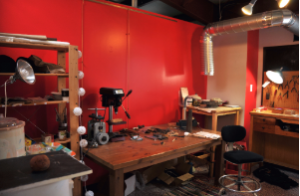 448 Studios – home to artist workspaces and band rehearsal rooms in Etna – was captured on film recently for a commercial promoting Zoom Internet, a division of Armstrong Cable Company.
Video producer Jud Stewart chose 448 Studios for the shoot because "the staff was very friendly and accommodating – they fit us right in." He also noted that 448 Studios was "very usable for the commercial."
Jud says the commercial is meant to showcase people who use Zoom internet in their daily lives – in this case, a band who uses the company's internet services to record and mix music.
The 30-second commercial is tentatively scheduled to air in April and will be seen throughout the Armstrong Cable footprint, which encompasses 11 different markets, including Ohio, West Virginia and Northern PA.