Storage Lockers Starting At $45.00!
(Locker Includes Storage, Student Pick Up, & Protection Plan)
STORExpress is Pittsburgh premier student storage facility. We are the only local facility offering pick-up at your dorm or apartment with our free move in truck. Call today to schedule! Locations fill up fast!
Pittsburgh – South Side
200 South 22nd St
Pittsburgh, PA 15203
412-431-5625
Our Pittsburgh self storage facility in South Side is located right across the Birmingham Bridge at 200 S. 22nd Street, a few minutes away from Pitt, CMU, Chatham, Duquesne and Point Park.
Robinson
4317 Campbells Run Road
Pittsburgh, PA 15205
412-278-5151
RMU Student? Our Robinson facility is 15 minutes away from campus via I-376.
McKees Rocks
24 Furnace Street Ext.
McKees Rocks, PA 15136
412-431-5625
McKees Rocks is excited to serve the Point Park College and Duquesne University communities. We offer many storage options for students - including lockers to parking! Come see us and rent today.
Ohio – Warren
3390 Youngstown Rd.
Warren, OH 44484
330-790-5625
Warren is conveniently located at 3390 Youngstown Rd SE near Ridgeview Plaza, Kracker Jacks, Advance Auto Parts, and Noel's Car Toys.


Pick Up Service for Student Storage in Pittsburgh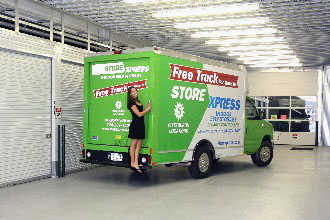 Looking for storage companies that pick-up? Don't worry, if you don't have a vehicle to transport your items to STORExpress, we have two easy solutions just for you!
You will receive a call as soon as the driver is on the way to you.

This is your cue to make sure your items are ready and waiting at the pick-up zone (to be determined) so that they can be loaded into the truck by you once the driver arrives.

Once the driver arrives, you'll have 30 minutes to load up your items into our truck.

Please note that the truck provides a one-way trip, not a round-trip, so transportation back to school will need to be arranged.

Lastly, the truck may be rented by a licensed driver on an hourly or daily basis. Call 412-431-5625 for more information on this option.
We offer pick-ups Monday through Saturday, 9:30am-3:30pm. Call us to select a time range for a pick-up of your items by a STORExpress licensed employee. Schedules fill up fast, so schedule early!
Truck Rental
Need a truck rental in the Pittsburgh area? STORExpress offers a free truck and free gas for move-in. You or a licensed driver can rent the truck to pick-up and easily transport your items to STORExpress. Call your store manager to schedule the truck.

Storage Lockers for Students
Space is at a premium in dorm rooms and student apartments. Students have to be very creative in storing school items like binders and books, clothing, and everyday accessories.
When space gets tight, students should consider renting a climate-controlled self-storage unit to store excess furniture, seasonal clothing, textbooks and other items.
Storage units are a terrific year-round student storage solution, especially for local students who need storage units near the University of Pittsburgh. Renting a unit is also a great summer storage solution for college students or for students participating in a study abroad program.
STORExpress, offers month-to-month rentals, protecting your items by video surveillance systems with keypad access.
Whether you decide to rent a 5 x 5 or larger unit for yourself or to share with a friend, STORExpress will work with you to ensure the best fit for your budget.